Assistant Professor of Media Culture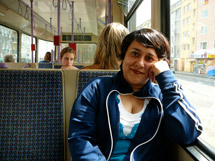 Susana Loza, assistant professor of media culture, received B.A. degrees in Political Science and Psychology from Stanford University, and her Ph.D. in Comparative Ethnic Studies from the University of California at Berkeley. Her dissertation, "Global Rhetoric, Transnational Markets: The (Post)Modern Trajectories of Electronic Dance Music," examines the racial, gender, socioeconomic, and philosophical dimensions of digital pop music.

She teaches cultural studies, critical race theory, film and media studies, popular music, feminist theory, and ethnic studies. Her research interests include science fiction and horror; racial and sexual performativity; digital media and cybercolonialism; the politics of online fandom; power, privilege and cultural appropriation; and the resurgence of minstrelsy in "post-racial" times.

Her articles include "Orientalism and Film Noir: Subjective Sins and Othered Desires" (Southern Quarterly, Summer 2001), "Vampires, Queers, and Other Monsters: Against the Homonormativity of True Blood," in Gareth Schott and Kirstine Moffat, eds. Fanpires: Audience Consumption of the Modern Vampire (New Academia Press, 2011), and "Sampling (Hetero)sexuality: Diva-ness and Discipline in Electronic Dance Music" in Mark Butler, ed. Electronica, Dance, and Club Music (Ashgate, Forthcoming 2012). She has also been published in Popular Music and the Journal of Popular Music Studies.

Professor Loza is currently working on a project entitled Post-Racial Performativities: Race, Sex, and Popular Culture in 21st Century America that contemplates the fundamental role that racial masquerade plays in American popular culture and how Americans have historically used ethnic drag to simultaneously build and buttress the ever-shifting parameters of whiteness and American identity.