Current Exhibit
Al-Mutanabbi Street Starts Here

June 18-Sept 30
sites.hampshire.edu/storytellers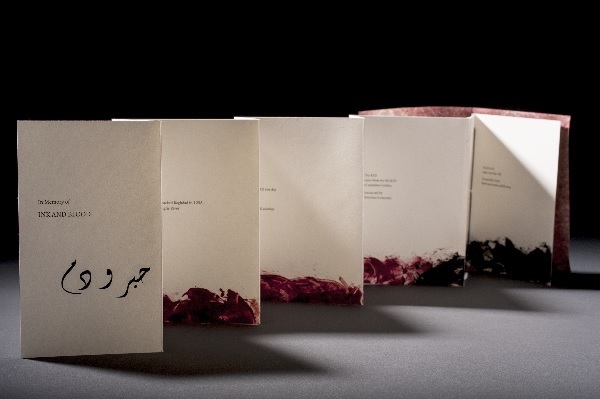 Ink and Blood, Cathy DeForest, with permission of the artist
The Hampshire College Art Gallery at Hampshire College will host the travelling exhibition, Al-Mutanabbi Street Starts Here, from June 17 through September 30, 2015. The exhibition of 100 artists books, prints, and broadsides was created in response to the bombing of al-Mutanabbi Street in Baghdad in March 2007. The diverse group of artists from Europe, North America, and the Middle East reveal a wide range of creative responses to the event. Al-Mutanabbi Street, named after the Iraqi 10th century poet, had been the center of literary, intellectual, and cultural life in Baghdad for centuries.
Al Mutanabbi Street Starts Here "is a tribute to a street that grows into a large and archetypal symbol and spatial metaphor for books. Situated in Baghdad, the city of the Arabian Nights, and in the oldest civilization that brought humanity to learning through writing, al-Mutanabbi Street is a call for all to regain Baghdad's cultural luster instead of letting it fade in violence, greed, exploitation and corruption in a wicked trajectory of dictatorship, invasion, occupation, and comic but dangerous puppets" (Muhsin al-Musawi's preface to Al-Mutanabbi Street Starts Here: Poets and Writers Respond to the March 5th, 2007, Bombing of Baghdad's "Street of the Booksellers" edited by Beau Beausoleil and Deema Shehabi, 2012).

Gallery Events:

June 18
Panel with participating artists, Liz Chalfin, Annie Zeybekoglu, Ania Gilmore, and Cathy DeForest

September 17
Conversation with Dr. Mazin al-Jadiry, pediatric oncologist from Baghdad, sponsored by the Iraqi Children's Art Exchange

September 28
Faculty panel on the exhibition in context: art and activism, histories of cultural destruction, and geopolitics of the Middle East
Related programs:
August 18-Ongoing
Storytellers is a companion digital exhibition to Al-Mutanabbi Street Starts Here that examines the role of narrative in artists' responses to the bombing of al-Mutanabbi Street. As a digital and interpretive extension of the physical exhibition, Storytellers is available as a website and as an exhibition on the Magic Board, Hampshire's projection gallery. Storytellers was curated by Svetlana Zwetkof (Mount Holyoke College) and Lisa DeAbreu (State University of New York College of Buffalo), with the support of the Institute for Curatorial Practice Paid Internship Program.
June 18-July 9
The re-siting of the Border to Baghdad archives on the Magic Board, Hampshire's projection gallery, shows an exchange between emerging artists in El Paso, the United States, and Baghdad, Iraq that took place over Skype and social media in October 2013. The project developed around "scores," or sets of instructions for making artwork, the results of which were then shared online. The exchange, facilitated by Szu-Han Ho and Rijin Sahakian, provides a snapshot of emerging artists working in two distant, urban deserts.

All events are free and open to the public. For further information, please contact bvigeland@hampshire.edu
---
Location and Hours
The gallery is located in the lower level of the Harold F. Johnson Library building.
During the academic year the gallery is open:
Monday-Friday 10:30 a.m.-4:30 p.m.
Closed Saturday
Sunday 2-5 p.m.
Summer hours:
Monday-Friday 10:30 a.m.-4:30 p.m.
Images from Past Exhibits