Current Exhibit
Towards the Unknown: The Drawings of Yusef Lateef
February 6-26, 2015
Yusef Lateef (1920-2013), master musician, composer, and artist, taught at Hampshire for over 30 years as a Five College Professor of Music. Hampshire alum Alhena Katsof has curated an exhibition of Lateef's drawings, which can be seen at Hampshire's Main Gallery from February 6-26. 
Opening Reception: Sunday, February 8, 2015, 5-7 p.m.
At 6 p.m. there will be a musical invocation in resonance with Yusef Lateef's artworks, performed by Adam Rudolph with Alex Marcelo, JD Parran, Batya Sobel, and Matt Waugh.
Guided Gallery Tour: February 26, Noon
Panel Discussion in the Gallery: February 26, 7 p.m.
NEW DATE: "BROTHER YUSEF," A Cinematic Portrait of Yusef Lateef
PLEASE NOTE DATE/TIME CHANGE

WEDNESDAY, March 4, 5.30pm, Jerome Liebling Center, Room 120
'Brother Yusef' is a chamber film directed by NICOLAS HUMBERT, WERNER PENZEL
Switzerland, 2005.

+
+
SYNOPSIS: Filmmakers Nicolas Humbert and Werner Penzel visit Yusef Lateef and create an intimate cinematic portrait about the person and his music.

Introductory comments by Abraham Ravett, professor of film, Hampshire College.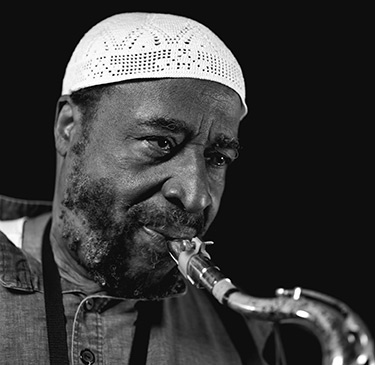 Yusef Lateef Portrait by Michael DiDonna, 2001. Image courtesy of White Columns.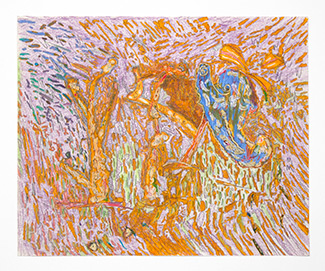 Yusef Lateef, Untitled, Date unknown, Pen, marker and oil pastel on paper, 14 x 17 inches. Image courtesy of White Columns.
Curator's Statement
"When the soul looks out of its body, it should see only beauty in its path. These are the sights we must hold in mind, in order to move to a higher place." --Yusef Lateef
Hampshire College is proud to present an exhibition of drawings by the master musician, composer, and artist, Dr. Yusef Lateef (1920–2013). A treasured member of the Pioneer Valley community, Dr. Lateef inspired generations of students as Five College Distinguished Professor of Music and Music Education. Throughout his lifetime, Dr. Lateef was immersed in his creation of "autophysiopsychic music." He described this as music that comes from one's physical, mental, and spiritual self or "from the heart." As part of this creative continuum, Dr. Lateef made over 100 drawings, which were exhibited for the first time by the Augusta Savage Gallery, in New Africa House at the University of Massachusetts Amherst. He also created innovative graphic notations and scores in which numbers and shapes organize complex interval-based music. This exhibition includes examples of these notations alongside a selection of drawings on paper created with watercolor, pen, ink, graphite, and glitter.
Working from home
Dr. Lateef drew in the same room in which he composed at his piano for over forty years, surrounded by instruments he collected from across the globe. A virtuosic wind musician and vocalist, Dr. Lateef played the tenor saxophone, flute, oboe, shanai, shofar, argol, sarewa, and taiwan koto. He activated some of this technique in his works by pouring small puddles of ink onto the page and then blowing through a straw to spread the liquid. These fanning pools are interwoven with various marks, lines, squiggles, scratches, and concentric circles. At times, the shapes resemble emerging trees, candelabra, flowers, and clouds. In other instances, amoeba-like clusters boom like the cosmos across the page.
 
Dr. Lateef's drawing practice was informed by his lifelong immersion in methods of free playing wherein the 'feeling tone' of a singular gesture inspires the next. This call and response unfolds one mark at a time, from first to the last, in a process that could take one or many days before a drawing reached completion. As he was a devout Muslim, his drawings were frequently embedded with references to Allah, The One worthy of worship. Prayer and spiritual beauty are infused throughout his work. In Arabic, the name 'Lateef' can be loosely translated as "gentle." This aptly suited Dr. Lateef, "the gentle giant" for whom creativity was a force that exists in myriad forms.

The title of the exhibition is borrowed from an album, co-released with composer and percussionist Adam Rudolph, with new compositions and recordings by Dr. Lateef. The phrase invokes an essence of his seven-decades long meditation on sonic dimensions and their broader social significances, which he practiced across macro and micro planes, moving always and ever, Towards the Unknown.
~
-- Alhena Katsof, curator
Towards the Unknown is organized in collaboration with Africana Studies in honor of Dr. Lateef and in recognition of Black History Month at Hampshire College. It is sponsored in part by Africana Studies; office of the dean of multicultural education; the Cultural Center; UMOJA; office of alumni and family relations; the School of Humanities, Arts, and Cultural Studies; the Music Program; Film, Photo, and Video Program; Studio Arts; the Humanities Program; ICP, the School of Interdisciplinary Arts; CASA; the Center for Feminisms; and the Harold Johnson Library, all at Hampshire College; Mount Holyoke Studio Art Department; and Amherst College Music Department.
Towards the Unknown is curated by Alhena Katsof and organized with White Columns in New York City. The exhibition was installed at White Columns from November 8-December 20, 2014.
---
SPRING 2015 STUDIO ARTS/FILM, PHOTOGRAPHY, AND VIDEO
MAIN GALLERY DIVISION III FINAL PRESENTATIONS SCHEDULE
MARCH 2-May 16, 2015
March 8-10: Alex Matheson
March 11-13: Justin Johnson 
March 29-31: Aliza Spicehandler and Tino Fulo
April 1-3: Alina Ortiz Salvatierra and Sophie Schultze-Allen
April 4-6: Ava Samuel and Luna Goldberg
April 7-9: Sarina Miller and Montserrat Familiar-Boranos
April 10-12: Elias Sideris, Sequoia O'Connell, and Wouter Schievink
April 13-15: Maggie Karlin and Whitney Klare
April 16-18: Hannah Anderson and Ella Garay
April 19-21: Sophia Philip and Robyn Smith
April 22-24: Alison Woods, Jennifer Sensenich, and Jiayi Liu
April 25-27: Ryan Kulas and Lucas Tomashek
April 28-30: Carly Richman and Ilya Bronchtein
May 10-16: S2015 Graduates Group Exhibition
---
Location and Hours
The gallery is located in the lower level of the Harold F. Johnson Library building.
During the academic year the gallery is open:
Monday-Friday 10:30 a.m.-4:30 p.m.
Closed Saturday
Sunday 2-5 p.m.
Summer hours:
Monday-Friday 10:30 a.m.-4:30 p.m.
Images from Past Exhibits