Current Exhibit
Al-Mutanabbi Street Starts Here

June 18-Sept 30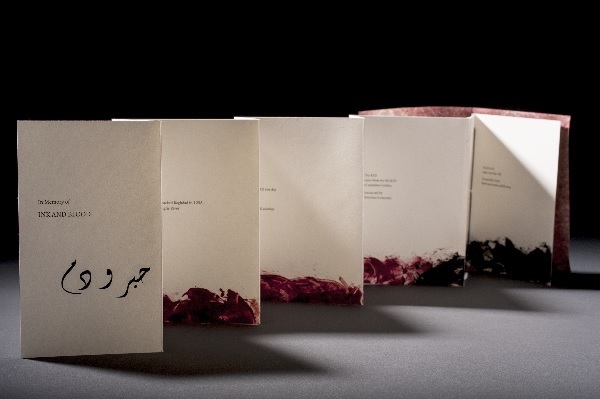 Ink and Blood, Cathy DeForest, with permission of the artist
The Hampshire College Art Gallery at Hampshire College will host the travelling exhibition, Al Mutanabbi Street Starts Here, from June 17 through September 30, 2015.  The exhibition of 100 rare artists books, prints, and broadsides was created in response to the bombing of Al Mutanabbi Street in Baghdad in March 2007.  The diverse group of artists from Europe, North American and the Middle East reveal a wide range of creative responses to the event. Al Mutanabbi Street, named after the Iraqi 10th century poet, had been the center of literary, intellectual and cultural life in Baghdad for centuries.
Al Mutanabbi Street Starts Here, "is a tribute to a street that grows into a large and archetypal symbol and spatial metaphor for books. Situated in Baghdad, the city of the Arabian Nights, and in the oldest civilization that brought humanity to learning through writing, al-Mutanabbi Street is a call for all to regain Baghdad's cultural luster instead of letting it fade in violence, greed, exploitation and corruption in a wicked trajectory of dictatorship, invasion, occupation, and comic but dangerous puppets." (Muhsin al-Musawi's preface to Al-Mutanabbi Street Starts Here: Poets and Writers Respond to the March 5th, 2007, Bombing of Baghdad's "Street of the Booksellers" edited by Beau Beausoleil and Deema Shehabi, 2012)
Participating artists, Liz Chalfin, Annie Zeybekoglu, Ania Gilmore, and Cathy DeForest will be speaking at the opening reception for the show on June 18th at 5:00 pm in the Gallery.
The exhibition will conclude on September 28th at 4:30pm with a faculty panel addressing some of the questions raised by the artworks, and putting those questions into political, religious, social and artistic context.
All events are free and open to the public. The library gallery is open Monday-Friday, 10:30 a.m.-4:30 p.m. and is located on the lower level of the Hampshire College Library.  For further information, please contact: bvigeland@hampshire.edu
---
Location and Hours
The gallery is located in the lower level of the Harold F. Johnson Library building.
During the academic year the gallery is open:
Monday-Friday 10:30 a.m.-4:30 p.m.
Closed Saturday
Sunday 2-5 p.m.
Summer hours:
Monday-Friday 10:30 a.m.-4:30 p.m.
Images from Past Exhibits