Application Deadlines

Spring 2016 Program
Friday, October 16, 2015

Fall 2016 Program
Friday, March 4, 2016
Program Availability: Every Other Spring Semester (2015, 2017, etc.)
From the beginning of January and continuing through July, Hampshire College offers a group of students the opportunity to live and study in Berlin, which is today one of the most vibrant cultural centers in Europe and one of the global hubs of contemporary art. 
The Berlin program is appropriate for students studying across most disciplines, providing them the opportunity to develop their own programs of study to include German language; courses at leading German universities; a seminar on historical and contemporary issues in German arts and society; and the option of arranging an internship or independent project if they choose.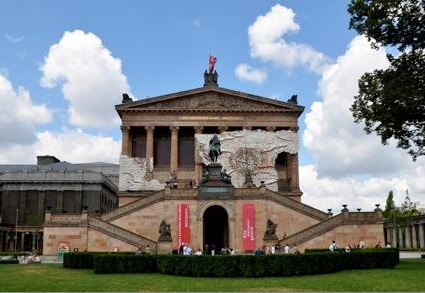 Old National Gallery, Berlin, Germany
Academic Program
This program offers students the unique opportunity to develop their own courses of study while being affiliated with leading German universities. Students will have the opportunity to study at the following prestigious institutions of higher education in Berlin during the spring semester, from its beginning in April through June/July.
The Free University of Berlin
The Humboldt University in Berlin
The Berlin University of the Arts
Technical University Berlin
The program will be accompanied by the Hampshire Berlin Seminar, focusing especially on the arts and on the city as a "contact zone" shaped by its unique history as a "divided city" during the Cold War as well as by diverse currents of migration. The seminar includes historical and architectural tours of Berlin, a "postcolonial city tour," lectures, and workshops with renowned Berlin-based artists, scholars and activists; studio visits; concerts, theatre performances; and museum and gallery exhibits. 
Shortly after their arrival in January/February and before the start of the semester in the beginning of April, students enroll in an intensive German language course at a leading foreign language academy in Berlin. The Berlin Seminar and intensive language study help students assimilate the Berlin experience into their semester program by providing opportunities for more in depth cultural integration.
In addition, academic excursions to sites in the Berlin region, Potsdam, and other German cities, as well as trips to cities in Eastern Europe, such as Prague or Warsaw, will further enrich students' perspectives.
Students interested in pursuing an internship or independent project parallel to their studies may be introduced to adequate opportunities. In order to exchange ideas and share discoveries and academic progress, students and accompanying faculty will meet regularly for individual and group meetings.
Throughout the semester students will work on individualized projects tutored by Hampshire College faculty in Berlin or by local associates. At the end of the term, students will complete a retrospective on their project and time in Berlin and submit a portfolio of their work. Students will also share their experiences with the Hampshire College community at an event the following fall semester.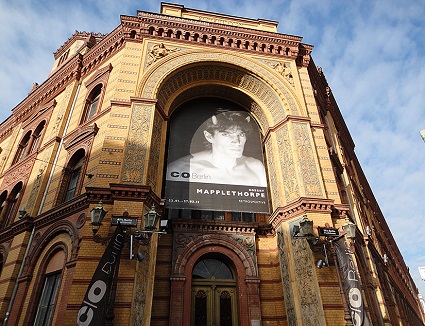 Photo by Peter Collins 09F, Spring 2011 Program Participant
Eligibility and Prerequisites
This exchange program is open to qualified students who are in good academic and behavioral standing. Detailed information on Hampshire eligibility requirements and policies is available under the Eligibility Requirements in the Exchange, Field Study, and Short-term Field Course section of the Hampshire College Handbook.
Intermediate German language skills are required to participate (a minimum of three semesters of college-level German is recommended). Students are also highly encouraged to enroll in the preparatory course, Berlin: Contested Artworks in the German Capital, the preceding fall semester. 
Term Dates
Spring Semester: January/February to July
Important Note: This program is offered every other year (spring 2015, spring 2017, etc.) 
Housing and Meals
Housing is arranged for students in family homestays and/or student apartments. Students receive a monthly meal stipend.
Program Costs
Semester tuition, room, board, and health insurance fees are paid to Hampshire College. A travel stipend may be awarded through GEO to offset the cost of airfare.
How to Apply
Applying to a Hampshire Exchange Program: Application instructions, requirements, and procedures.  
Students are advised to meet with the GEO program advisor for this exchange program before submitting an application.
Questions? Want More Info?

GEO Program Advisor
If you have questions about the application process or general questions about this program, please contact the GEO program advisor. Also, the global education office has experience reports from students who have previously participated in this program in the GEO resource library. Stop by during open hours to read them at your convenience.

Heather St. Germaine
413.559.5542
hstgermaine@hampshire.edu
Faculty Contacts
If you would like to learn more about the academic content and options for the Berlin program, please contact one of these faculty members:
Daniel Kojo Schrade (Faculty director of 2015 program)
Associate Professor of Art
School of Humanities, Arts, and Cultural Studies
413.559.5974
dschrade@hampshire.edu
Jeff Wallen
Professor of Comparative Literature
Dean of the School of Humanities, Arts, and Cultural Studies
413.559.5428
jwallen@hampshire.edu
Anna Schrade
Adjunct Assistant Professor of Cultural Students
Professor for Berlin: Contested Artworks in the German Capital course
aschrade@hampshire.edu
Application Deadlines

Spring 2016 Program
Friday, October 16, 2015

Fall 2016 Program
Friday, March 4, 2016