Application Deadlines

Spring 2016 Program
Friday, October 16, 2015

Fall 2016 Program
Friday, March 4, 2016
Program Availability: Fall and Spring Semesters
This program offers Hampshire students the opportunity to spend a semester traveling with the Mexico Solidarity Network (MSN) studying critical international grassroots alliances in the struggle for democracy, sovereignty, and economic and political justice. The Mexico Solidarity Network is committed to developing these grassroots alliances on both sides of the U.S.-Mexico border, and organizing to promote dialogue and collective action for social change.
Through MSN, students can participate in a unique study abroad experience that will connect them with other community activists struggling for change in Mexico.
Academic Program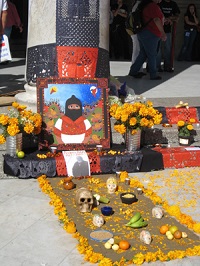 The Mexico Solidarity Network study abroad experience offers a dynamic, student-centered pedagogical approach combined with direct interaction with some of Mexico's most important social movements.
MSN's unique integration of theory and practice provides students with important lessons for organizing work back home and an in-depth appreciation of the struggles of:
Indigenous Communities [Chiapas]
Campesinos, Braceros, and organized sex workers [Tlaxcala]
Autonomous urban organizing around housing and culture [Mexico City]

Photo of offering to a fallen Zapatista on the Day of the Dead. Photo taken by GEO staff while visiting the program in the fall of 2007.

The program is a 13-week inter-disciplinary course. Semester breakdown by week:
Week 1: San Cristobal de las Casas, Chiapas-UniTierra
Weeks 2-6: Oventic, Chiapas-Zapatista community
Weeks 7-9: Tlaxcala-Campesino communities
Weeks 10-13: Mexico City, "Los Panchos" autonomous urban community

For more detailed program information, see MSN Study Abroad Program.
Eligibility and Prerequisites
This exchange program is available to qualified Hampshire students who are in good academic and behavioral standing. Detailed information on Hampshire eligibility requirements and policies is available under the Eligibility Requirements in the Exchange, Field Study, and Short-term Field Course section of the Hampshire College Handbook. If you are not a Hampshire student but interested in the Mexico Solidarity Network's programs, please apply directly through MSN.
Successful applicants will have completed at least one year of college Spanish or demonstrate equivalent mastery of the language.
Term Dates
Fall Term: September-December
Spring Term: February-May 
Housing and Meals
A centerpiece of the Mexico Solidarity Network's study abroad program is your immersion in communities actively involved in political, economic, and cultural organizing. During the program your lodging includes:
Housing in rustic collective dormitories on the campus of the Universidad de la Tierra, a center for educating indigenous youth in practical trades [San Cristóbal, Chiapas]
Collective dormitories [Oventic, Chiapas]
Homestays with campesino families living at the base of La Malintze, one of Mexico's largest mountains [Toluca de Guadalupe, Tlaxcala]
Homestays in La Polvorilla, a cooperative that is part of Mexico's largest urban housing movement [Mexico City, Federal District]
Program fees cover your room, board, and ground transportation in Mexico.
Program Costs
Semester tuition and health insurance fees paid to Hampshire College. A travel stipend may be awarded through GEO to offset the cost of airfare.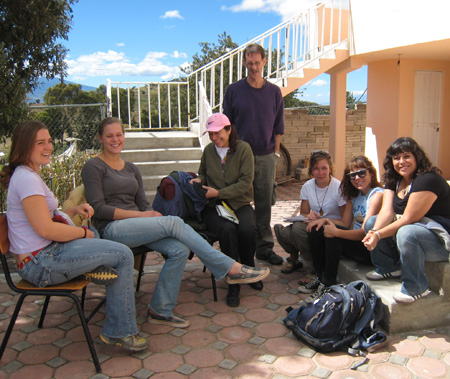 A Spanish class for Mexico Solidarity Network students in Toluca de Guadalupe. Photo taken by GEO staff while visiting the program in the fall of 2007.
How to Apply
Applying to a Hampshire Exchange Program: Application instructions, requirements, and procedures.  
Students are required to meet with the GEO program advisor for this exchange program before submitting an application.
Questions? Want More Info?
If you would like to hear more about the academic content of this program, please contact the faculty member below.
If you plan to apply or have general questions about this program, please contact or stop by the global education office.
Faculty Contact
Margaret Cerullo
Professor of Sociology
School of Critical Social Inquiry
413.559.5514
mcerullo@hampshire.edu
GEO Program Advisor
Matthew Shamey
413.559.5542
geo@hampshire.edu
Application Deadlines

Spring 2016 Program
Friday, October 16, 2015

Fall 2016 Program
Friday, March 4, 2016