Gunn family bequest presents internship opportunities for Baldwin Scholars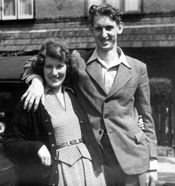 Freda and Ian Gunn supported the decision of two of their three children, Janet Gunn 71F and Gillian Gunn Clissold 74F, to attend Hampshire College.
Hampshire had been open just a year when Janet arrived, and she--and later Gillian--joined other students, faculty, and staff in the collaborative effort of building an experimenting and innovative approach to college education.
That effort resonated with Freda and Ian's values. It also led to Ian's recent bequest to Hampshire that established the Freda and Ian Gunn Summer Baldwin Internship Fund.

The endowed Gunn Summer Baldwin Internship Fund supports paid summer internships for James Baldwin Scholars, students from underserved communities who come to Hampshire for a transitional year of college preparation. The internship generally takes place the summer after a student's first year at Hampshire. Two students, Peter Guillen and Justin Singleton, received Gunn internship support in 2011, the first year of the fund. Next year, 2012, will mark the 20th anniversary of the Baldwin Scholars program.

"You look around nationally and you see very few programs like this. We don't believe in revolving doors here. There's a difference between admitting students and supporting them through graduation," said Baldwin Scholars Program director Maddie Marquez, who added that the summer internships are integral to the program. "The goal is for students not merely to do a job, but to see how the job fits into something larger."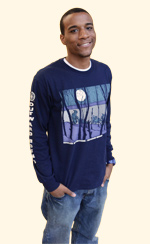 Justin Singleton grew up in Brooklyn, and the Gunn internship provided him an opportunity to return to the city and work with local children through El Puente, an organization dedicated to community/youth education and advocacy. Reflecting his passion for environmental justice, Singleton led a "Go Green" class that aimed at expanding the youths' knowledge of environmental issues.

"I'm a big science guy, and I felt a responsibility I needed to fulfill as a role model," said Singleton. "It was a good experience for the kids. I learned a lot from them, and they learned a lot from me."

It's the sort of educational opportunity the Gunns supported. Born in 1928 to British parents in Egypt, Ian attended an experimental elementary school where they addressed his reading difficulties by ceasing formal classes for several months and allowing him to indulge his passion for building things. He eventually became a physicist. He met Freda in 1950 in the town of Malvern in Worcestershire, England. She had left school at age 14, and worked as a dressmaker and built war plane radar units during World War II before training as an elementary school teacher in Malvern.

Freda and Ian married in 1950. As a teacher, Freda practiced the "open classroom" technique, used to accommodate differences in interests and learning styles. After they moved to the United States, Ian discovered the "Gunn effect," a contribution to the miniaturization of microwave generation. He made the discovery, Gillian said, after "refusing to cease exploring why one particular experiment came out 'wrong' despite the entreaties of his employer."

Freda only lived to see Janet graduate, as she succumbed to cancer at age 51 in 1975. Ian never remarried. When diagnosed with colon cancer in 2008, Ian included his daughters in a discussion of his will and was enthusiastic about their suggestion that he make a bequest to Hampshire. Ian insisted that Freda's name be listed first in the fund's title, in honor of her educational innovation and concern for social justice. Ian died on December 2, 2008, knowing that part of his legacy was at Hampshire, helping transform young lives through creative education.
"There's a difference between admitting students and supporting them through graduation."   
                                                                                                                                   -- Baldwin Scholars Program Director Maddie Marquez

If you or a family member would like to discuss including Hampshire in your legacy planning, contact Development Director Jeffrey Wolfman at 413.559.5638, or by email at jwolfman@hampshire.edu.