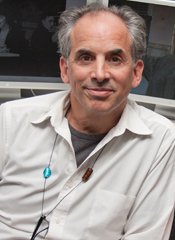 Roger Sherman knows what a Hampshire College education can provide. That's why he's supported his alma mater so much over the years.

When Sherman arrived at Hampshire in the spring of 1973, he was energized by what he saw: bright students, unafraid to take risks and thriving on a campus that embraced a new educational model.
By their side, a faculty that was just as innovative gave them guidance and encouragement. It helped Sherman build the skills and confidence needed to cofound the famed Florentine Films and become an award-winning documentary filmmaker.
Among the teachers who impacted him most was Professor of Photography Elaine Mayes.

"I had heard about this new school down the road and went to check it out. Elaine was the first person I met there when I knocked on her office door to ask if I could audit her class," says Sherman. "Her work has been an inspiration for me throughout my career."

This inspiration led Sherman to help create the Elaine Mayes Endowment Fund. Begun in 2009, it funds students' Division III projects in film, photography, and video, and brings visiting scholars and artists to campus.

"Elaine Mayes and Jerome Liebling helped make Hampshire one of the most respected film and photography programs in America. Honoring her is a fitting tribute to all she did," says Sherman. "More important, the scholarship gives students who might not otherwise be able to afford Div III work the opportunity to be able to create an outstanding and important project."

Sherman has provided numerous opportunities for Hampshire students since graduating, including having interns work with him at the Florentine Films office in Manhattan. When interviewing students, he values technical skill and a good résumé, but the intangibles are often even more important.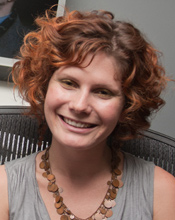 Take Anna Jacobson, who approached Sherman following her Hampshire commencement ceremony in 2009.
Though he already had Hampshire student JoVa Vargas as an intern for that summer, Jacobson's enthusiasm made an impact, and he brought her in on a project.

In 1998, Sherman had filmed New York restaurateur Danny Meyer as he opened his newest ventures, Tabla and Eleven Madison Park, for a series on food and world-class restaurants that never materialized.
The footage sat on a shelf for over a decade, but it finally seemed time to revisit the idea.

"By 2009, celebrity chefs were a part of the culture. Meyer had five restaurants, and was possibly the most successful restaurateur in America," says Sherman.

Vargas had been importing raw footage into Sherman's computer editing program. When her internship ended Jacobson jumped in, finished the importing, and began editing, working directly with Sherman. She ended up editing the entire film.

"I was excited to have some creative control, which is rare when you're starting out. Roger was always there to tell me what I should be doing, but he would also trust that I would know how," she says.

The Restaurateur is now on the film festival circuit, where it won the Sonoma International Film Festival's award for best food documentary and the Double Feature Film Festival's Best Domestic Documentary award. Jacobson is now working on a documentary about reconstruction efforts in Haiti, focusing on the building of an orphanage. It's a job that Sherman recommended her for and something which he does for most of his interns.

Through the Elaine Mayes Endowment Fund, Sherman is also happy to have helped give students another opportunity to hone their skills on campus.
"[This] scholarship gives students who might not otherwise be able to afford Div III work the opportunity to be able to create an outstanding and important project."
- Roger Sherman 73S

For more about the fund, contact Chief Advancement Officer Clay Ballantine, at cballantine@hampshire.edu or 413.559.5647. To learn more about receiving funding from the Elaine Mayes Endowment Fund, please contact Professor Jacqueline Hayden, at jhPF@hampshire.edu.