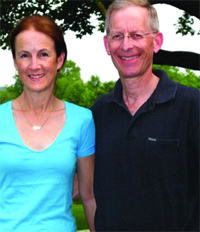 Hampshire College made a profound impact on the lives of Jonathan 70F and Grace (Jackson) Scott 73S. By starting the Community Scholars Fund for Educational Opportunity, they hope to see even more students have extraordinary experiences.

"Grace and I are very interested in education, especially for kids who, under normal circumstances, wouldn't have a chance to go to college," says Jonathan.

The Community Scholars Fund provides grants for tuition, room, and board to promising students with financial need.
Priority is given to highly motivated students who otherwise may not have had the opportunity to attend Hampshire. Jonathan gives the College credit for honing his ability to achieve goals in numerous fields.
"At Hampshire, I didn't just learn answers to questions, but also how to ask questions, how to listen, and how to think."

Jonathan arrived at Hampshire wanting to be a mathematician, but soon realized that he had an opportunity to focus on his other passion, the arts. After college he became a successful sculptor, and after a decade-long career decided to shift direction into finance and investment consulting. He is now a senior partner with the investment-consulting firm Veritable LP.

"People wonder what art has to do with business," says Jonathan. "Successful businesses must also be creative in the ways they set themselves apart from their competitors. You can be creative in a lot of different ways."

Both Jonathan's and Grace's parents instilled a deep interest in education in their children. Jonathan's father started off at a one-room schoolhouse in West Virginia before continuing on to the University of West Virginia for undergraduate and graduate degrees and then to Washington and Lee University for a doctor of law degree. This led to a successful career in business.

Grace's mother, Betty Jean Jackson, earned her undergraduate and master's of library science in the south in the 1930s. Moving to the Amherst area in 1959, she became the librarian at the University of Massachusetts and then at Mount Holyoke College. Grace's father, an Air Force officer stationed in the area until his retirement, later became the computer coordinator at Hampshire College.

Jonathan is excited about Hampshire's future. He recently ended his two terms on the board of trustees, and he believes the College will continue to grow by supporting its core principles of independent study and creative learning. He was impressed by interim president Marlene Gerber Fried, and has high expectations for new president Jonathan Lash.

"Grace and I recognize how lucky the College is to have Marlene, Jonathan Lash, an amazingly hardworking and skilled board of trustees, and a faculty full of creativity and passion," says Jonathan.

In recognition of Gerber Fried's dedication and service as Hampshire College's interim president, the Scotts pledged $75,000 to the Community Scholars Fund as a matching challenge. The challenge was quickly met.