The Harold Johnson Library serves as an important hub for the Hampshire community, and recognizes that community groups "table" in the library foyer in order to reach campus audiences. The following are general guidelines to tabling in the library foyer, and are intended to avoid conflicts between tabling and the Magic Board. The Magic Board is a dedicated digital exhibition gallery featuring work of students, faculty, and programs. This policy outlines guidelines for tabling that we hope will create an easy process that will allow student groups use of the library foyer while protecting curated digital exhibitions from being inadvertently blocked visually.
Guidelines for Tabling in the Harold F. Johnson Library
Hampshire community members will request space to table in the library through the event services and summer reservation system. Eligible requests from Hampshire community members will be considered provided that they are:
Non-commercial use only
Made by a member of the Hampshire community (non-Hampshire use is prohibited)
Priority will be given to Hampshire community groups and programs connected to the academic program.
Tables:
The only table permitted in the foyer is the 4 feet in length table provided by ESSP and on reserve in the library.
Groups who have reserved this space will need to check out the small table held on reserve in the library.
All tables must be positioned so that there is unobstructed visibility of the Magic Board.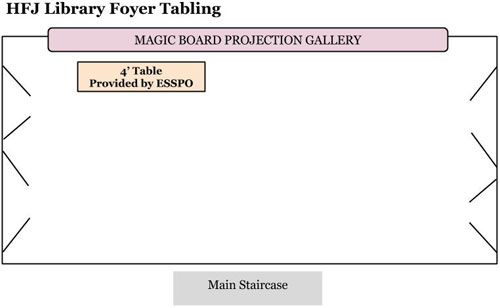 Those checking out a table from the circulation/info bar will be provided with these guidelines:
To check out a table:
Reservations for the Magic Board will check-in at library to get table and receive instructions on where to set up.
Desk staff can remind them to set up on the side rather than blocking the exhibition space (Magic board).
Cataloged as a 3-hour reserve.