Get Involved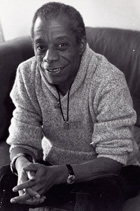 History of the Program
The James Baldwin Scholars program at Hampshire College was founded in 1992 to provide a one-year transition program to ambitious African American students who can benefit from an academic year to develop and improve the skills necessary for success in College.

The Baldwin Program, named after preeminent African American writer and scholar James Baldwin, who taught at Hampshire, has been expanded to serve African American and other students who are talented and ambitious but underprepared for college because of the lack of resources in their community and school.
 
Learn More
For more information on the James Baldwin Scholars Program, call Karina Fernandez, director, Baldwin Scholars Program at 413.559.5301 or the Hampshire College admissions office at 877.937.4267.
"The questions which one asks oneself begin, at last, to illuminate the world." — James Baldwin
Get Involved