* National Service is Everybody's Business (1993)
* The Spirit of Invention (1994)
* The New Home of the National Yiddish Book Center (1994)
* Hampshire Graphic Identity Program (1994)

National Service is Everybody's Business
by Gregory S. Prince, Jr., Wall Street Journal, August 13, 1993

Congress is close to passing President Clinton's national service bill. Under the proposed National Service Corporation, young people who agree to work in community service can receive up to $110,000 to pay for college. Ideally, the program will help restore to the fabric of our society the understanding that helping others is an important and valued endeavor.

At Hampshire College, we share the president's commitment to public service. Since the college's founding, students have been required to engage in some form of public service during their studies here. We also believe that Washington can't and shouldn't be solely responsible for national service programs. The whole nation should be involved--state and local governments, private organizations, universities and colleges. We too should serve. In that spirit, Hampshire College's Board of Trustees has voted that the college will match--dollar for dollar--the national service scholarships of students who attend this school. Simply put we will double national service scholarships.

Hampshire would also like to encourage--dare we say challenge?--other colleges and universities to establish similar matching programs for National Service Corporation Scholarships.

Not only can this commitment enhance higher education's service to the nation, but it can also become an invaluable part of a young person's education. It can provide a set of goals; it can impart a sense of shared concern more powerful than anything they can read in a book; it can provide money for school for students who desperately need it. Equally important, public service, if the funding and commitment are real, can be an effective way to address many of the problems facing our society.

We've seen all of this first-hand at the Five Colleges, a group of schools in western Massachusetts committed to innovation and a wide vision of education. Each year, the public service projects undertaken by our students--at Amherst, Mount Holyoke, Smith and Hampshire Colleges and at the University of Massachusetts--fill hundreds of pages. We know that, given opportunity and encouragement, young men and women are eager to serve their community and their country.

At the Five Colleges, community service takes many forms: working in health clinics on preventive care; planting and harvesting crops for the Western Massachusetts Food Bank to feed the hungry of the Pioneer Valley; teaching English to immigrant families seeking better lives in our state. The examples go on and on. But no matter the form of service, the lesson is clear: The young will invest their time and efforts--their inherent energy, enthusiasm and creativity--to solve the problems of their communities.

Hampshire College opened its doors in 1970, shortly after Robert Kennedy wrote that "at the most simple and direct level, the contributions of young people are needed by the nation." Those words are as true today as they were amid the promise and pain of the 1960s. Therefore, Hampshire is ready to enlist in national service, to give to it and not just receive from it. Higher education as a whole can do no less.
---
The Spirit of Invention
Hampshire Reports, Spring 1994
At the 1993 Fall Convocation, Hampshire President Gregory Prince, Jr., had the pleasure of announcing a major gift and a new program made possible by Jerome Lemelson, an independent inventor who holds 500 U.S. patents. Lemelson and his wife Dorothy have given Hampshire $3.2 million to establish the Lemelson Program in Invention, Innovation, and Creativity: the initiative that prompted Business Week to refer to Hampshire as the college "where Edison and Bell might have enrolled."
Lemelson, 70, holds more patents than any other living American and the third largest number of patents of any American in history. His patents cover both processes and technical products, including key components of the VCR, the cassette tape recorder, and laser-guided machine tools used in automated flexible manufacturing systems.
He says, "The United States prospered through the 20th century on the strength of its inventors and entrepreneurs. People like Alexander Graham Bell and Thomas Edison are almost mythical characters in American culture. If the United States is to remain competitive in the global marketplace of the 21st century, we'll need a whole new crop of inventors. I think we can find them among America's brightest college students."
The new Lemelson Program at Hampshire will enhance appreciation of the role of the inventor, stimulate students to express their creativity through invention, and encourage innovative and socially responsible businesses. The program will develop a national network of colleges and universities to champion innovation, and it will emphasize the link between invention and the United States' ability to compete in a global market. The gift will also help establish a National Inventors Symposium to highlight the work of undergraduate student inventors.
According to President Prince, "Jerome and Dorothy Lemelson, parents of Hampshire College graduate Rob Lemelson (79), selected Hampshire because of its history of innovation in higher education, and because of the college's commitment to real and lasting social change. The Lemelson Program's goals lie right at the heart of Hampshire College's educational mission."
Hampshire graduates have demonstrated that their education fosters invention, innovation, and creativity in almost every field. The spirit of invention has been imbedded in the Hampshire experience from its beginning, a fact that is not surprising at a college that attracts creative, independent individuals and then provides faculty support and rigorous academic structure along with a high level of academic freedom. Hampshire students must plan their own course of study, convince the faculty of its merit, and execute the terms of a binding contract. The business of learning, when approached in this business-like way, develops invaluable "real world" skills, and many graduates credit their success to this training.
The Lemelson Program, launched last fall, will build upon Hampshire's success in developing entrepreneurship and creativity with new courses and a fellowship program that will bring undergraduates (Lemelson Fellows) from other colleges and universities to Hampshire to participate in the program. Students will work in faculty-supported entrepreneurial teams (E-Teams) which will develop new approaches and technologies that have potential business applications. Student teams that reach an advanced stage of concept development will also learn about small business marketing and other practical matters designed to help them develop their inventions and bring them to market.
With funds from the Lemelson gift, several new courses have been developed for Hampshire and Five College students, and visiting Lemelson Fellows who want to explore the limits of their own creativity. Students will address the highly technological innovations in artificial intelligence in a course taught by Lee Spector, assistant professor of computer sciences. The course is an introduction to the core ideas of artificial intelligence (AI) through concrete, hands-on activity. Students will learn the Lisp programming language (the language of choice in AI research) and use this new language to build working AI systems.
The computer's influence on art-making and the changing role of the photographic image will be considered in The Digitized Image, a class taught by Assistant Professor of Photography Sarah Hart. Digitized imaging has revolutionized film and photography. Students will respond to this new and constantly changing technology by developing innovative applications and evaluating a wide-range of computer-based work.
But not all technological innovation involves computers, and some problems, such as waste management, may be solved through "low tech" methods applied in innovative ways. In Appropriate Technology: Innovation on the Farm, Brian Schultz, assistant professor of entomology, and Fred Wirth, associate professor of physics, will lead students in an investigation of integrated pest management, composting, and waste recycling on the farm....
Students who take Environmental Geology of Rivers with Professor of Geology John Reid will use the nearby Connecticut River as a living laboratory. In this upper-level research seminar, field-work will be conducted largely during the spring season of high runoff when most erosion occurs. Students in this course will investigate non-intrusive methods of controlled erosion and flood control methods that are based on a river's natural meander pattern....
A new program does not emerge fully developed in just one semester, but Brenda Philips, director of the Lemelson Program, is very pleased with the way in which this enterprise has progressed so far. Her office has received hundreds of requests for information from the press and from potential fellowship applicants....
---
The New Home of the National Yiddish Book Center
Aaron Lansky. The Book Peddler, Summer 1994.
As we go to press, the National Yiddish Book Center has just signed final papers for the purchase of 10 acres of land at the southeast corner of the campus of Hampshire College in Amherst, Massachusetts. The parcel consists of an old apple orchard sloping down to a stand of red and white pines surrounding a small pond. Here, on high ground in the midst of the orchard, commanding a wide view of the surrounding countryside and nearby mountains, we are about to build a permanent home for Yiddish culture. Slated to open in the spring of 1996, the 27,000-square-foot building will be a true lebedike velt--a living center where books, interactive exhibits, educational programs, and the daily work of students and staff will combine to make the past thousand years of Jewish history come alive for young and old alike....[p.8]
The Vision
Five years ago, when our landlord, the Town of Amherst, Massachusetts, announced plans to reclaim the Old East Street School, the cozy, red-brick building that had served as our headquarters since 1981, we greeted the news less as a calamity than an opportunity....
Fortunately, there was no need to act precipitously. Even in a relatively small town like Amherst the wheels of municipal bureaucracy turn slowly, and it wasn't until three years later, in the spring of 1992, that we actually had to vacate the schoolhouse. Our reprieve was then extended for another four years when Mount Holyoke College offered us rent-free use of a 20-room mansion until we could secure a building of our own. Our staff and Board members put the interim to good use, meeting, studying and consulting with professionals to define and answer three fundamental questions: What is the Center's overall mission, both now and in the future? Exactly how much and what type of space do we need to realize that mission? And, lastly, should we rent or buy an existing structure or build from scratch?
It was, of course, clear from the outset that the mission of the National Yiddish Book Center - and hence our space needs - had, over the course of fourteen years, evolved to include a good deal more than Yiddish books. Having recovered well over a million volumes, having begun distributing those books to students, scholars and major libraries around the world, we gradually turned our attention to a third and no less urgent task: to open the books up and let a new generation - especially those unable to read Yiddish themselves - know what they held inside. Our first major step in this direction came in 1983, when we offered a week-long Summer Program in Yiddish Culture for adults. At the time we weren't sure if we'd be able to fill 45 available places; instead, with minimal publicity, we were overwhelmed by more than 2,000 applications. We responded by expanding the Summer Program in subsequent years and introducing other educational initiatives....[p.10]
Land Ho!
Once we decided to build from scratch, there was no need to consider locating anywhere outside of Amherst and the immediate Five College area. But as we quickly discovered, finding buildable land in close proximity to the colleges, where real estate had been booming for several decades, was no easy matter. Most of the available building lots seemed to fit into one of two categories: either cornfields in the middle of nowhere, or commercial lots sandwiched between strip malls on the highway. Clearly, neither seemed appropriate as the site of a national home for Yiddish culture. But then, stuck at an impasse, we resorted to inspiration: if we couldn't find a suitable property near a college campus, why not build on a campus?
The potential benefits of such a move were immediately apparent. While retaining our autonomy, we'd be able to take advantage - at no cost to us - of the infrastructure and facilities of a host institution, including theaters and auditoriums, radio and television studios, security, frequent free bus service between the schools, excellent libraries, computer links and fiber-optic communications. An on-campus location would lend an important imprimatur to our small organization - and to Yiddish culture generally - and, at the same time, would greatly strengthen our educational mission by establishing us as a visible and readily accessible resource for the 30,000 undergraduate and graduate students within a six-mile radius. Students and faculty would be able to make use of our extensive holdings of Yiddish books, journals and music, and they could encounter Yiddish culture at first hand through workstudy opportunities, internships and fellowships, volunteer docent programs, and regular classes, workshops and special events.
In fact, the idea of an on-campus location seemed so full of promise that, after several weeks of deliberation, our only concern was not whether or not we wanted to connect ourselves with a college, but whether a college would want to connect itself with us.
There was, of course, only one way to find out, and that was to ask. With the help of Myra Fein, an intrepid community activist (soon to be elected the Chair of our Board), we made appointments to meet in person with the presidents of our two "first choice" schools: Hampshire and Mount Holyoke Colleges. Both schools had been friendly to the Center over the years, both had made serious, longstanding commitments to Jewish Studies, both had bold, imaginative leadership, and both owned large, lovely (albeit very different) campuses where there was likely to be available land. Even so, fully aware of just how unprecedented - some might say khutspedik - our proposal was, we entered our initial meetings with considerable trepidation. As it turns out, we needn't have worried. The meeting with President Elizabeth Kennan and other top administrators at Mount Holyoke College, for example, began on an auspicious note when the Dean of Faculty announced that his mother had been a long-time member of the Center and that he himself had greatly enjoyed the most recent issue of the Pakntreger....
No less cordial was our reception at Hampshire College, a small, progressive, liberal arts school located in South Amherst. Although Hampshire is my own alma mater--I graduated in 1977--I had never before met the school's new President, Gregory Prince, who arrived just a year earlier from Dartmouth. When, somewhat hesitantly, I entered his office, he smiled broadly and exclaimed, "I'm really glad you came to see me. I was about to call you!"
I knew that Greg had been briefed in advance of our meeting by Penina Glazer, the former chair of the Center's Board and current Vice-President and Dean of Faculty at Hampshire. But before I could elaborate on our proposal, Greg said that he wanted to share an inspired idea of his own. Since the day he arrived on campus, he explained, he had been dreaming of developing what he called a "Cultural Village"--a loose cluster of a half dozen or more autonomous, non-profit or entrepreneurial organizations that would set up shop in buildings of their own on the Hampshire campus. Each resident organization would benefit from the facilities and services of the College (and proximity to one another), while Hampshire, at no cost to itself, would be able vastly to increase the resources and opportunities it made available to its singularly self-directed students....
Needless to say, the congruence of Greg's vision and our own was nothing short of astounding. It was, I told him, a "zivig min hashomayim" ("a match made in heaven"); and although Greg himself did not use precisely that term, it was clear that he too was inspired, ready to bring us in on the ground floor as the Village's first "anchor organization." We each communicated our enthusiasm to our Boards and, after predictable prudence, they concurred, instructing our respective lawyers to translate the shidekh into fiscal and legal reality.
I would have thought, given so much genuine enthusiasm and good feeling on both sides, that the Center and Hampshire would have closed on the agreement within weeks, or at least months, of our initial meeting in Greg's office. That the process took not months but years - three and half, to be exact - is a measure of how much we still had to learn about the ways of real estate, not to mention Board members, lawyers, architects, engineers, environmental planners, wetland conservationists, historic preservationists, and more town and state officials than I'd care to remember. The good news came when Berkshire Design Group, an environmental planning firm hired by the College, completed a detailed Master Plan of the campus and suggested that the Book Center be located not in the relatively undistinguished field where the College had originally intended to place us, but in an apple orchard at the southeast comer of the campus, with independent access (if needed) to the state highway, and a long, open view of the Holyoke Range and the surrounding countryside. (Originally intended as a three-acre site, the parcel eventually grew, through the persuasive logic of our architect, to six, seven, and finally 10.32 acres, including a buffer zone of towering red and white pines and a small pond at the eastern edge of the orchard.)
Somewhat more complex were our negotiations regarding the specific legal arrangement between the Center and the College. Greg's intention for the Cultural Village was not to sell land - which colleges almost never do, under any circumstances - but to lease it over an extended period of time, with each organization retaining title to its own "improvements" (i.e. its building). In our case the College was willing to extend the land lease for a full 99 years, the longest term permitted by law before rental turned, de facto, into ownership.
At first 99 years sounded like a very long time, and we instructed our lawyers, the ever resourceful Steve Shatz and his assistant, Ellen Freyman, to draw up the necessary papers. But as the agreement began to take shape, members of our Board and I became increasingly uneasy. If our goal was to provide a permanent home for Yiddish, then how could we enter into an agreement which, however improbably, could result in our eviction less than a century hence? I shared my concern with Greg, who reminded me that colleges, as a matter of course, do not sell land, and that his Board would be unalterably opposed. I in turn pointed out that this was a unique historical circumstance, that Yiddish had known enough impermanence over the past thousand years, and that our Board would accept nothing less than outright ownership, Our discussion continued - in his office, my office, restaurants, coffee shops, the college cafeteria, even on a windswept beach in Nova Scotia. A student of history - and an uncommonly decent and broadminded human being - Greg was eventually persuaded, and then quietly, behind the scenes, one person at a time, he set about persuading his Board. It took several years, but in the end it was historical argument and not fiscal convention that prevailed: on January 20th of this year, Hampshire's Board voted to sell. It was a tribute to Greg's perseverance and political acumen that three years earlier, when he first broached the issue of ownership with his Board, a member pointedly asked, "What's the rush?" Now, as the issue finally came to a vote, the same Board member asked just as pointedly, "'What took you so long?"
A Time to Build
At a ceremony at Greg's home on March 11, 1994, we signed final papers for the purchase of 10.32 acres of land. The price, negotiated on the Center's side by Board members Win Gerson and Ruth Stark, was $200,000 - slightly less than $20,000 per acre - payable without interest over the next two years. Present at the sirnkhe and joining in the "L'khaim," were many of the individuals whose ingenuity, imagination, hard work and vision had brought us to such a joyous occasion: Greg Prince and his associates; our indefatigable Board chair Myra Fein, our lawyer Steve Shatz, and the many almost-unimaginably dedicated and hard-working members of our staff and Board.
Also present, though characteristically out of the limelight, was an individual upon whom so much will depend in the months ahead: Allen Moore, the extraordinarily gifted, principled and impassioned architect who has been working day and night for the past fifteen months to design the building, and who will now see it through the final stages of blueprints and construction....[p.15-17]
---
Hampshire Graphic Identity Program, 1994
Hampshire Graphic Identity Program Booklet, 1994
This booklet illustrates Hampshire College's visual identity and provides broad guidelines for its application. Adopted on the eve of the college's 25th anniversary, the program is intended to provide a consistent, coherent, institution-wide identity to support visual communications with all Hampshire constituencies. The guidelines are intended to help those who design or order materials for Hampshire College to implement the visual identity appropriately and consistently.
ICON
The Hampshire icon--four rectangles that form an H in the open space between them--represents the four colleges that created Hampshire and the liberal arts college itself, a proving ground for educational innovation and reform. The rectangles may be read, too, as the four schools that form the college. In the logotype identifying the college on letterheads, signs, and publications, the icon is used with the college name.
COLORS
In logotype applications, the icon should--where feasible--employ the four "founders" colors, which closely approximate the colors of the founding schools, and the Hampshire wordmark should appear in black or white....[p.1-2]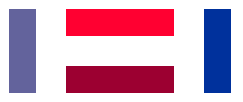 ---

memorandum

TO: Greg Prince, PR
FROM: Kelley Piccicuto, DOF
DATE: December 20, 1994
RE: Hampshire's New Graphic Identity

Just a few thoughts on the new design...

Although you began your presentation on the 13th with the statement that this was a good time to change the Hampshire identity regardless of our present fiscal situation, I want to register my opposing thoughts on the matter. It seems to me there are so many other more important places we could be spending our money. The new publications look terrific but I think we should have stopped there. In fact if we had used the tree symbol on the new publications there would have been the added benefit of instant identification for those people already acquainted with Hampshire's established symbol.

All office personnel in charge of ordering supplies should have been warned well in advance that the graphic identity was being changed. It was not necessary to surprise people on campus. Had people been warned in a timely fashion we may have saved quite a bit of money in supplies and stationery orders. The laureate laid paper is expensive scrap. The need for the new stationery to work with window envelopes might have been considered had the people who work with the stationery been brought into the process earlier.

The use of colors is another expense I am not convinced we need at this time. Melissa stated in her presentation that we would only use the colored letterhead "for important correspondence" since it is so expensive. If we cannot afford to use the letterhead in its best possible form than we should have designed a letterhead we can live with comfortably.

I agree the negative H is bold but it has no relationship with Hampshire. If you have to explain the four colors and the four institutions you lose what you want out of a symbol: recognition and connection. The H looks too industrial and many people cannot see the H without coaching and/or explaining; again not what I would call an effective logo. The type face is too small. Losing an inch and a half on the left will result in more two page letters (not a huge problem but a hassle for us in the trenches).

You spoke about how we are just now reaping the benefits of additional national recognition. This seems to me to be exactly the wrong time to drop our traditional, recognizable symbol and switch to something so different. We could have done something "bold" WITH the tree perhaps. We could have opened up the quest for a new identity to our present students, faculty, staff and alumnus. We could have taken the best of those ideas to North Charles Street design for their take on what would work best with our new publications thus eliminate the possibility of a popularity contest.

The identity announcement party did not seem the appropriate time to bring up my concerns. When questions regarding the practical side of this switch arose we were invited to eat cake. In the past you expressed an interest about hearing what is being said in the corridor after the meeting and some of these sentiments have been spoken in many corridors and offices.
---

MEMORANDUM

DATE: January 4,1995
TO: Kelley Piccicuto
FROM: Gregory S. Prince, Jr.
SUBJECT: Hampshire's New Graphic Identity

Thanks for your thoughts on the new design. Please feel free to share this response to some of your concerns with others who are "talking about it in the hallway."

Evidence exists among higher education institutions, as well as in the marketplace in general, that graphic identities make important statements to key audiences. In Hampshire's case, that key audience is first and foremost prospective students and a larger community of alumns, donors and potential donors. This audience drives the system, and, in order to reach it, we were urged by professionals to adopt a uniform, comprehensive graphic identity for internal and external publications as well as stationery. I was persuaded by this argument, for I was convinced that our admissions material had a "Victorian" sensibility and that they would not be well received by high school students. I was equally convinced that, having begun the process, uniformity and coherence were important.

The goal of our graphic identity program is to have a geometric shape become associated with Hampshire. We have not eliminated the tree; it remains Hampshire's symbol. We now have greater flexibility and leeway for creativity for banners and for other ways of having the institution presented graphically and symbolically. The sense of spatial playfulness that comes from the "H" shape, moreover, appeals to me.

Using the logo on the left does take space, however, I think letters are more readable with more space and printing looks much cleaner. The real pressure will be for authors to make sure their letters do not exceed one page. I certainly am one who is going to be affected by that pressure, since I am not known for my succinct memos and letters. The pressure for all of us to become more succinct will be useful.

Adopting a new graphic identity is a traumatic experience for any institution, and a "new look" is often initially unpalatable simply because it is new. I ask that you give the "H" some time. I would also ask that you please share your technical concerns with Nancy Sherman and Melissa Stephen in the publications office; Nancy and Melissa will provide you with the kind of technical response I cannot.

Thanks for writing.
---

memorandum

TO: Greg Prince, PR
FROM: Kelley Piccicuto, DOF
DATE: January 11, 1995

While I wholeheartedly agree our Admissions materials needed to be upgraded to attract the best possible candidates to Hampshire College, I am unconvinced we needed to spend the extra money to change the logo and the stationery. I do not see the significance or the benefit of a "geometric shape." In contrast I see obvious gains in continuing to use the tree symbol which has valuable recognizability locally and nationally.

Where you see "spatial playfulness" others just don't get it. In a completely unscientific survey of people not connected with the college, an overwhelming majority do not see the "H" never mind make a connection with our institution.

Adopting a new graphic identity should not have been this traumatic. The process was flawed. Furthermore, I think it is a mistake to dismiss our concerns as simple resistance to change. A change for the better is one thing, a change for the worse is yet another.

s for giving the "H" some time, I contend this is nothing one tries for a while. Logos and identities are slow growing and to suggest we try this for a period of time and perhaps switch back is foolish and wasteful.

The entire exercise is especially troubling to me after serving on the latest Budget Task Force. Those discussions were painful and difficult. To now see money wasted on seemingly unnecessary expenditures is hard to swallow.

I have shared your memo of January 4th to a number of staff and faculty. They too are unconvinced of the need to switch identities at this time.

Ultimately this is your decision and I guess at this point we just agree to disagree. Thanks for taking the time to write.