Orientation comprises various activities that you'll participate in, which may include:
Performances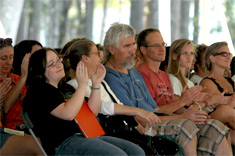 Keynote talk
To kick off orientation, we host a keynote speaker to engage the campus and local community in a discussion about relevant current affairs topics. We often invite the author of our common reading to give this talk. Past speakers include Tracy Kidder, Junot Diaz, Elaine Brown, and Kate Bornstein.

"Consensual Sensual: Sexual Violence Prevention and Consent"
This is a powerful theater piece containing a series of vignettes that examine issues of sexual violence, communication, consent, and violence prevention on college campuses. It is written and performed by students from the Five Colleges.
---
Discussions
Hampshire's Academic Program
Students and faculty members will engage in dialogue about Hampshire academics and the Division I experience. Faculty members lead these small group information sessions and provide a space for students to ask questions and express concerns. Transfer students will attend sessions specifically about the transfer student experience.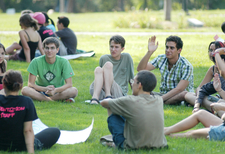 Common reading discussion
You've read the book...so what did you think? This is your first opportunity to share your thoughts, opinions, and questions about the common reading with your new classmates and faculty. Tutorial professors will lead discussions for first-year students.
Film screening and discussion
The film screening is an optional event offered during one evening of Orientation. New students and their orientation leaders can watch a film--often a documentary--together and stay to discuss it. Every year we choose a new, up-and-coming film that we consider thought-provoking and relevant to the community's diverse interests.
---
Fun Activities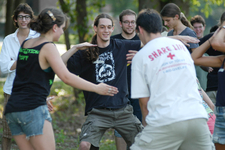 If you're still raring to go after orientation activities, the orientation leaders provide various opportunities for you to further your introduction to Hampshire life.

These activities often take the form of introductions to Hampshire athletics; student group meet and greets; film screenings; and academic program information sessions.
Examples of optional activities include a Queer Spectrum Meet and Greet for queer people and allies to mingle; interactive tours of the community garden and other green spaces on campus; pick-up basketball games; and an opportunity to try the climbing wall.
---
Convocation (Fall Orientation Only)
Orientation ends with Convocation, an academic event marking the official beginning of the year. During this important event you'll hear from the President and other important members of the College community.