Division III?Nari Jibon Microcredit Project
Kasia blogs from Bangladesh

Abraham Zablocki, visiting assistant professor of anthropology at Hampshire College and chair of the Five College Buddhist studies certificate program, said of Kasia Paprocki's senior project:

"Kasia's Division III really exemplifies the very best student work at Hampshire. She designed, raised the funds for, and implemented a microcredit program, complete with business training, for economically disadvantaged women. A program of this magnitude would have made for an extraordinary Division III under any circumstances, but the fact that Paprocki conducted her work in Bangladesh?where she had never been before?is all the more impressive."

Paprocki became a human rights activist early in life?in the sixth grade, to be exact, when she and five of her classmates successfully petitioned their St. Paul, Minnesota, school district to stop buying soccer balls made by child laborers (some as young as six) in Pakistan.

Paprocki went on to found a chapter of Free the Children, and in 2000, when she was fifteen, was one of six recipients of the Twin Cities International Awards given to those who have made "clear and significant contributions to both the local and global communities; a strong commitment to international understanding and cooperation; and a demonstrated sense of mutuality and respect in relations with other countries and people." She has also been an intern at the Goldin Institute, a think tank that promotes grassroots initiatives of global peace, justice, and sustainability, and has worked with the American Friends Service Committee to stop the Iraq war.

Before coming to Hampshire, "I thought I wanted to be a diplomat," Paprocki says. Her plans changed. By the time she arrived at the college, "I had a very specific idea of what I wanted to study. I was very excited by the enthusiasm Hampshire students had for their work." Now that she's successfully completed four years at the college, she says, "I'm so much better prepared for what I want to do."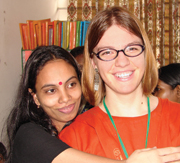 Paprocki's interest was in microcredit, which she explains as "the provision of credit to poor people and small businesses that are not otherwise creditworthy. The idea is to help people start businesses who wouldn't otherwise have that opportunity." For her Division II work, she "looked at what people were saying were the problems with microcredit and developed an alternative microcredit model."
After studying Islam, women's studies, development, and economics, Paprocki went to Bangladesh to put her model to work. There she interned at the Nari Jibon School helping women students start workers' co-ops. Nari Jibon, which translates as "women's lives," educates people in various business and trade skills who under other circumstances might be condemned to eking out a subsistence living as sex workers or sweatshop employees. This hands-on experience became the centerpiece of Paprocki's Division III.
Paprocki missed her May 19 Hampshire graduation. A few days after she completed her Division III work, she flew to Chicago to prepare to return to Bangladesh. And what will she do when she gets there? "We'll do a study on microcredit in a Bangladesh village which specifically tries to incorporate the voices of people who've participated in microcredit programs. I'm going help direct the program and analyze the findings," she explains.
Hampshire Professor of Politics Frank Holmquist chaired Paprocki's Division III faculty committee, which also included Zablocki and Associate Professor of History and South Asian Studies Vivek Bhandari.
"We have seen students doing fieldwork exhibit one or more positive attributes in their Division IIIs, such as unusual initiative, considerable advance preparation, courage moving on to new intellectual and physical terrain, and energy and skill in the course of fieldwork where nothing seems to go as planned. On returning to Hampshire the task is to quickly and insightfully join the messy reality of fieldwork with relevant secondary and theoretical material, and present it in attractive prose," said Holmquist. "Kasia exhibited all these attributes?and she did it all.
"The fact that she was hired to continue her line of research and writing in Bangladesh, even before graduation, indicates the professional level her work has achieved."