Cookbook supports local farmers and local foods market

The Pioneer Valley has a new cookbook, the product of an academic project completed at Hampshire College last spring.

Local Delectables: Seasonal Recipes from the Pioneer Valley was written by a May 2005 graduate of Hampshire, Andrea Davis, as part of her senior thesis (called a Division III). The spiral-bound cookbook, designed to lay flat for the convenience of the cook, was published locally by Collective Copies. It can be purchased for $19.95 at Collective Copies in Amherst and Florence and at many bookstores throughout the Pioneer Valley.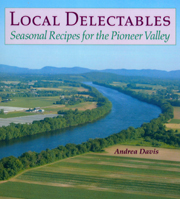 Davis, who now lives in San Francisco where she is involved in the local foods movement, is pleased that her undergraduate work can benefit the local agricultural and culinary communities. "In addition to preserving and sharing recipes with local flavor, I also wanted to help support the local foods movement," she said. "Proceeds from every book sold will go directly to CISA (Community Involved in Sustaining Agriculture)."
Davis grew up in a rural area of Maryland, near Havre de Grace, and preserving the agricultural way of life has become a passion for her. As part of her studies at Hampshire, where she concentrated in natural science and sustainable agriculture, she learned hands-on skills on the Hampshire farm and as an apprentice on an organic family farm in North Carolina and a low-pesticide farm in Maine.
"Local foods seem like an answer to a lot of the problems that occur in rural communities related to their economies," she said. "If people eat locally they will support the local economy."
Every Hampshire Division III begins with the student framing a question. For Davis, that question was: Could you eat a diet comprised only of foods produced locally and yet meet all of the U.S. Department of Agriculture's recommended daily allowance of vitamins and nutrients? Working with faculty mentors Jason M. Tor, an environmental microbiologist with an interest in soils and organic farming, and Elizabeth Conlisk, assistant professor of public health, Davis embarked on a yearlong scientific and historical quest. Hampshire's farm manager Leslie Cox and CSA (Community Supported Agriculture) manager Nancy Hanson also played valuable mentoring roles.
Davis spent hours poring over old cookbooks published by local community organizations, hospitals, schools, and individuals, using what she learned there as the basis for recipes that she adapted or created from scratch. A special computer program allowed her to analyze nutritional content. Entering data for one serving of each recipe, she devised a week's worth of meals for each season that, when analyzed over a week, fully meet USDA guidelines. Because those guidelines vary according to age and sex, she selected the requirements for females between 19 and 30 years old, knowing that group has the greatest nutritional requirements. "I knew that if I could meet their nutritional needs, the diet would meet those of any adult," she explained.
Davis tested the recipes, to ensure that flavor was good and all contents worked as planned. Her Hampshire friends happily volunteered to assist with taste tests. As needed, she altered and refined recipes as the project progressed.
The 112 recipes that made it into
Local Delectables
are arranged seasonally, with fresh ingredients and relying mainly on raw, unprocessed foods. They are limited to local crops or to crops that could be grown locally according to the U.S. Department of Agriculture's "hardiness" zone 5. Conspicuously absent are a number of common spices and flavors that are not suitable for the Pioneer Valley's growth season, including black pepper, cinnamon, vanilla, and tropical plants. Davis learned to substitute flavors creatively; lacking vanilla, she whipped up a pound cake using dried lavender.
Professor Tor, who chaired the faculty committee working with Davis, said he appreciated both the quality of her research and the importance of her advocacy for the local foods movement: "I am proud to have worked with Andrea while she developed her research questions and matured as an advocate for change. Her willingness to tackle difficult problems head-on and seek practical solutions is an early indicator of her potential as an influential leader in promoting positive change that will benefit human and environmental health."
Tor said Davis "developed a degree of sophistication in her thinking and confidence in her position that eating locally-produced food is more important than merely consuming organically-produced vegetables regardless of the source and transport distance. This is a strong position counter to that held by some rather influential writers."
---