May graduate Dane Olson can tell you the precise moment he began his Division III: One afternoon during his third year at Hampshire he was "just playing around," listening to a recording of Alvin Lucier's "Music on a Long Thin Wire." Intrigued, Olson taped a broken guitar neck to a railing outside his third-floor residence hall room and hung speaker wires weighted with 200 pounds of rocks toward the ground to see what sounds he could create. That spontaneous little experiment inspired a project he would immerse himself in over the next year and a half, culminating in the creation of a new—and very large—musical instrument and earning him a degree in physics and music.

In order to graduate, every Hampshire student must complete an in-depth, original, independent project, known as the Division III. The project takes at least the final year of study and is guided by a committee of faculty mentors recruited by the student. Students often blend academic disciplines in unexpected ways, working across traditional boundaries to explore new intellectual or creative territory.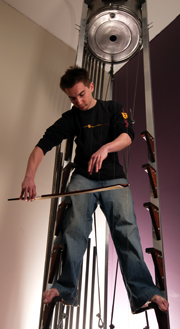 For his Division III, Olson developed and built the Singing Tower, a 16-foot tall vertical cylinder encased with strings and pipes, with steel resonance chambers at the top and bottom. He plays the tower from inside the cylinder, climbing up and down its height on 12 wooden steps spaced vertically behind the strings, either using a bow or plucking the strings with his fingers. The strings stimulate 12 upper and 12 lower pipes, which resonate in sympathy and add depth to the texture of the sound, amplified by the resonance chambers. A serious guitarist who also plays piano and the fiddle, Olson continues to experiment with pitches produced by the vibrating length of each string based upon where he places his fingertips or one of a number of other tools he is trying out as he practices. 
He debuted the tower at a public demonstration on campus shortly before his May graduation. He carefully chose the term "demonstration" over "concert," he explained, because he had only had a few weeks since finishing construction to learn to play it. Because interest was so great among those on campus who saw the unusual, gigantic musical instrument, housed in the college's recital hall, Olson agreed both to hold the demonstration and to play the Singing Tower on a couple of songs during the Div III concert of another Hampshire music student. "At this point, I can't really claim to know how to play it," he said. "I've been building it for two years and only playing it for a few weeks." The best comparison made so far for the tower's deep tones is the sound of a whale, with the length of the strings allowing for many more overtones and harmonics than a violin, although the sounds do clearly put it in the violin family.
Over his first three years at Hampshire, Olson studied in a range of fields, including acoustics, optics, cognitive science, music composition, music theory, and art. As he approached Division III, he knew he wanted to pull all those interests together, asking himself, "How can I fit all this into one broad topic?"
Every Division III begins with the questions that passionately interest the individual student. After his balcony experiment, Olson's questions began flowing: What is music? How does a string vibrate? Ultimately, he framed his driving question as: "How can I understand science, life, music, and art in order to make something new?"
"Throughout my Hampshire education—and this is the beauty of Hampshire—it was important to me to try to approach science as art and vice versa. As far as I'm concerned, there is no difference between science and art," said Olson. His Division II, three semesters of work in an academic concentration that is comparable to completing a major at a more traditional college, was titled "The Art of Music and the Science of Sound (The Sound of Music)."
Between "just playing around" and the debut of a new musical instrument, Olson put in many hours of hard work, both theoretical and practical. Still in playful mode, he first substituted empty paint cans for the rocks, trying different resonances to better control the sounds. He then came up with the idea of using oil drums as resonance chambers, and began thinking about ways to make a very large instrument aesthetically pleasing, "like the beauty of a violin, which is pleasing both in its sound and as a physical object."
He drew on the knowledge and skills learned in earlier Hampshire courses to frame the theoretical aspects of his Div III, working with physics professor Fred Wirth and music professor Dan Warner. He also sought out Don Dupuis and Glenn Armitage in the college's Lemelson Center, who taught him fabrication skills, including welding and woodworking, and gave advice on materials and techniques.
Olson's work on the Singing Tower impressed his professors on many levels, with its musical potential, scientific precision, and aesthetic appeal. "This project is the perfect culmination of his studies," said Wirth. "I have been impressed by his ability to cross boundaries and see the relevance of his scientific studies to his pursuit of an education in music. He was able to use much of his knowledge about wave motion from my course in optics and holography, as well as his work in mathematics and as a teaching assistant in musical acoustics. In the process he discovered within himself an innate talent for design and a clear aesthetic sense that have made his tower beautiful to the eye as well as to the ear. Since his studies have also encompassed music theory as well as calculus and computer science, he has placed himself in a strong position to make a difference in the rapidly evolving world of music today."
Music professor Warner provided valuable perspective on how Olson's creative efforts fit within a larger cultural context, in particular how they related to what has been done in music and composition and what could be done in new ways.
Olson considers the Singing Tower an improvisational instrument. "I or anyone else can step into it and breathe something new into it," he said. He sees potential for adding visual appeal to performances, through lighting or dance as the musician climbs up and down the steps, perhaps with other performers on stage. He is pleased to have produced a new instrument rather than pursuing a more traditional musical project, such as writing a score. "It is there to manipulate and improvise. It becomes the score," he said.

The tower was designed to collapse into manageable pieces for moving, with three people required to assemble and disassemble it. Following graduation, Olson carried it home with him to New Hampshire and, with his usual discipline and diligence, is continuing the work of mastering its musical potential. He is also in the process of patenting the Singing Tower. His future plans include graduate school in electro-acoustic music, and continued pursuit of the interest in creative metalworking that Hampshire's Lemelson Center helped him discover.