Students start showing up at the Greenhouse Mod in Enfield House at about seven. Some straggle in alone, a black case in hand. Others come in pairs, in groups, carrying guitars, mandolins, fiddles, whatever works when it comes to the task of making a little harmonious noise. For a while inside it's quiet—time for food, some catching up, random conversation. Not too much later, everyone clumps together in a circle and the music starts.

It's just another Wednesday night for Hampshire's Folk Music Collective.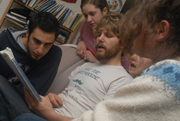 Emily Haynes Horne 07F is one of the founders of the group. Though she enjoyed playing music with some other Hampshire students, Horne felt that there needed to be something more, a place where students could just show up on a regular basis and know there would be musicians around willing to play together. So she, Deanna Snow 07F, and Cameron King 07F formed the Folk Music Collective. It started out in the Dakin Living Room, with ten students showing up on one of the first weeks of the new school year.
"Since then we've moved to the Greenhouse, and we get a good number of people. It was the (students who live in the) Greenhouse Mod's idea to have a potluck, too," says Horne.
Horne plays the fiddle. She says the wide variety of musical styles and techniques students bring to the sessions make each night different from the next, but there is one important thing that helps bind the songs together: "We've got a lot of people who are good harmony singers," she says.
Most of the time the collective plays traditional tunes from a songbook, but they're always ready to improvise.
"I know some people have been making up parodies, and I've been impressed by the lyrics," says Snow. She grew up in a musical community, and has been involved in singing and dance for most of her life.
The collective is always looking for new members to join in.
"The bigger the group, the more comfortable it is. It's not a judgmental atmosphere," says Snow. Horne agrees: "Sometimes people are there for the first time and they're too shy to sing," says Horne, "but we like all kinds of voices. And we're all at varied levels of instrument playing."