By Lynne Powers 05F
Division III student
In the fall of 2007, my flatmates were English, Welsh, and Japanese, along with one other American. The busy street outside - roaring with mini-cabs and red buses day and night - was a world away from Hampshire's fields and nightly chorus of crickets. I was on exchange at Goldsmiths College, studying anthropology in southeast London. From September through December, I spent the weeks in the city, attending class and exploring, and the weekends roaming farther. At Cambridge, I ate in a university dining hall that was straight out of Harry Potter. In Cardiff, I received a tour of the bay from a local (and discovered that a skirt in the frigid Welsh November was not the best decision I'd ever made). In Spain, I waded in the Mediterranean and hiked the tallest hill in Parc de Montjuïc to sit on top of a fortress's walls and look out over the entirety of Barcelona.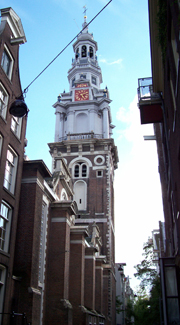 Back at Goldsmiths, the differences took some getting used to. The emphasis was still on papers rather than tests, but there were lectures to attend with hundreds of other students, and Goldsmiths' system includes grades. Not exactly Hampshire ways of life. My British flatmates became used to laughing and translating turns of phrase for me, when it came to grades and to life in general. Sometimes, I wondered if we were speaking the same language, especially when they tried to ape my accent and sounded more like stilted John Waynes than a girl from New England.
Even before I arrived in London and met my flatmates, a friend and I had traveled through continental Europe. The academic term at Goldsmiths didn't begin until late September and we took advantage of that, moving in a large loop that took three weeks to complete. We traveled by Eurail, hopping trains from Belgium to the Netherlands to Germany to the Czech Republic, from Austria to Italy to France. After everything that we had seen and done, from watching the sun rise over Venice's Grand Canal, to listening to Czech musicians play Chopin in a grand cathedral, to walking through a German concentration camp, I decided that I would be at peace even if my time in London was underwhelming. Two months later, sitting shoulder-to-shoulder with a flatmate on the base of the statue of Lord Nelson in Trafalgar Square, watching double-decker buses pass and the lights of Parliament and Big Ben's tower shine down the road, I knew:
underwhelming
was not the word for it.