The statistics paint the big picture, a mammoth, bleak mural of the Ethiopian AIDS epidemic that, among its ravages, has left over a million orphans who too often have no choice but to somehow fend for themselves. It's a tragic reality, but hidden in the scene are smaller portraits, the children themselves, all individual, all with unique stories and takes on life that, despite the common background, can't be summarized in a few brutal facts.

That's what Hampshire student Jessica Marie Chapman 07F wants to show to the rest of the world with "Children of Selamta," an exhibition of artwork created by a group of those orphans during her stay in the country this past summer.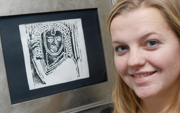 For two months Chapman lived at an orphanage in Addis Abbaba run by the Selamta Family Project, a program funded by the Human Capital Foundation that provides support for children and teens who have lost their parents to HIV/AIDS. When she arrived she had reservations, unsure how the youths would view her and how she would fit in to the unfamiliar culture. Those fears faded almost as soon as she stepped into the orphanage.
"What was most eye-opening was that I had an image of the kids being traumatized after living on the streets for several years without their parents, who many of the children had seen die. I thought it would be difficult to interact with them, but instead they were open and welcoming, some of the happiest kids I've ever met," she says. "It was amazing that they were able to move on and be so happy."
Chapman didn't arrive in Ethiopia empty-handed. She came prepared for the stay with a pile of art supplies, including linoleum blocks used for making prints. Nearly every day of her visit included an art class, and although she had a translator to help her communicate verbally with the youths, visually their expressive drawings quickly revealed their individual personalities.
"We started with drawing sessions, and everyone was welcome to draw. But I only had a limited amount of linoleum blocks, so the ones who made the linoleum prints were the oldest and most committed," she says. "I thought it would be a good idea to let them choose the themes. They came up with great ideas, and we settled on prints showing the different peoples of Ethiopia. There are so many different ethnicities there."
When she returned to the United States, Chapman found herself able to share something more than just her memories. She had 21 linoleum blocks, with which she created prints for shows at the Dartmouth Hitchcock Medical Center this past summer, at Dartmouth College in January, and, most recently, at the Latham Memorial Library in her hometown of Thetford, Vermont. She is working to set up an exhibit at Hampshire, and eventually hopes to see it travel to all of the Five Colleges before taking it back to the country where the prints were made.
"The idea is that, wherever the exhibit goes, it will bring donations to Selamta," says Chapman. "I hope the show will end up in the Ethiopian capitol."
For more information about the "Children of Selamta" exhibit and the Selamta Family Project, visit
www.selamta.org
.