By Taliesin Nyala 07F

Rachel Rubinstein is as comfortable discussing captivity narratives from the 1700s as she is explaining Rabbinical discourse from the 500s CE.

Dr. Rubinstein, assistant professor of Jewish American literature and culture, recently finished writing a book on Jewish perspectives of Native American culture in the past two centuries, to be published by Wayne State University Press in spring 2010.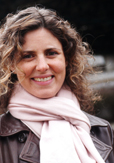 She has been researching identity, ethnicity, and cultural comparisons in literature since graduate school (Rubinstein received her Ph.D. from Harvard) and these days she brings that knowledge—and plenty of questions for students to consider—to each course she creates.

"I think about what I really enjoyed as a college student and try to reproduce that for students," Rubinstein says.

Her willingness to innovate makes her courses memorable. Last fall, instead of giving several small assignments in her Creative Betrayals: Secular Jewish Literature from the Bible to Modernity, Rubinstein had students individually design and work on one major project throughout the whole semester.

"If I give students permission to come up with a project and let them engage, they engage in amazing ways," she says.

Some students wrote short stories or essays, one created a radio show, another did an architectural design, while another made a Jewish holidays cookbook. Everyone was given the freedom and responsibility to reference the course materials in their own way, and to show that engagement through their endeavor.

In 2007, Rubinstein was awarded a three-year Posen Foundation Grant for the Study of Secular Jewish History and Cultures to develop courses in secular Jewish literature. Under this grant, she created the Posen Visiting Writers Series for the fall 2008 semester, inviting writers, including Jon Papernick and Peter Cole 77F to campus. They not only gave lectures to the college community, but also took time to sit and discuss writing, literature, and history with Rubinstein's class.

While she continues developing curriculum on Jewish secular literature, Rubinstein also maintains a strong relationship with the Yiddish Book Center (located adjacent to the Hampshire campus). She has introduced students to its resources through her courses, even teaching a Jan-term course at the center on Yiddish language, writing, and culture this past winter.

Though she is well versed in Judaism, Rubinstein says that her perspective is more literary than religious, and her courses explore the influence of Judaism's rich secular tradition. She notes that Hampshire is a good fit for her interests as it was one of the first colleges to offer a course on the Holocaust, "one designed by students in the 1970s," she says. "What better home could there be for secular Jewish literature than Hampshire?"