By Taliesin Nyala 07F

With a Division III like Katelin Wilton's 05F, it's hard to know where to begin.

For her Div III—"'Where there is no water we go to the ocean to fill our stomachs': How HIV positive youth in contemporary Zanzibar navigate NGOs, globalization, identities and politics in search of social and economic support"—Wilton has served as a consultant to UNICEF, presented at a conference in Zambia, and written an essay on the complexities of representation of children in a youth support group she helped found in Zanzibar.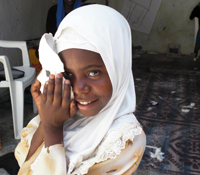 She also made a documentary of the group's formation, which, she says, was not part of her Div III but "just a project I did on the side."

Wilton first traveled to Zanzibar, an island off the east coast of Africa, on field study in the fall of 2007. While there, she connected with an organization, the Zanzibar Association of People Living with HIV/AIDS (ZAPHA+), and helped found their first youth support group.

"The real leaders are the youth in the area who wanted to do this work but didn't yet have the practical skills, such as writing budgets, but had passion and knowledge of the experience of living with HIV/AIDS," Wilton says. Working with these young people, she helped trained them so they could manage the group themselves. Since then, the group has supported children affected by HIV/AIDS.

Upon returning to Hampshire, Wilton continued to seek funding for ZAPHA+ during spring 2008. UNICEF hired her as a paid consultant to research and write a 50-page report (one piece of her Div III) on the pilot group she had helped form and the nine other groups created in its wake. She returned to Zanzibar in fall 2008 to write this report.

"I wanted my Div III to be useful for this organization," she says, and it has been: ZAPHA+ used the report to garner more funding for facilitating its groups.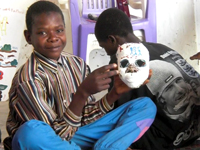 In April 2009, Wilton participated in the International Research Network on AIDS and Religion conference in Zambia, "Prolonging Life, Challenging Religion," where she presented a paper on the difficulties HIV/AIDS-positive people face trying to balance their religious, social, and biological health during Ramadan, the Islamic month of fasting, which interferes with taking ARV medication.

Wilton is now finishing up the final part of her Div III, a paper on "children's interactions with donors, the structural inequalities of development aid, and the representations of children" such as those typically seen in media images of victimized youth, she says. The young people she has worked with are victims of a virus and perform this way for donors, but Wilton's ethnographic work shows that they are not just victims—they are strong individuals, as evidenced by their work in ZAPHA+.

In late April, she had a gallery showing in Hampshire's Johnson Library of artwork created by HIV/AIDS-positive children. "Before the group, a lot of these children had never met another child who was HIV/AIDS positive," she says. "Now they use art as a way to talk with each other about their experiences."

After graduation, Wilton plans to defer entrance to graduate school at NYU Gallatin for a year to travel around Asia and South America. In these past few years, she says, "I've learned in very meaningful, deep ways about how people live and choose to live, and I've gotten to spend time with really amazing people."

Frank Holmquist, professor of politics, served as Wilton's committee chair, and Jennifer Hamilton, assistant professor of legal studies, served as committee member.