For Emma Brewster 05F, spending spring semester 2008 in Hampshire's study abroad program in Cuba proved to be just the right ingredient for pulling together interests in public health, economics, and anthropology and forming the base of her Div III, the compilation of a community cookbook with recipes gathered primarily from members of the Puerto Rican community in Holyoke. It resulted in her redefining her area of interest as "food studies."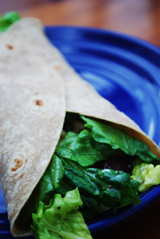 As Brewster explains, Cuba was where she "started to explore food as a key connection between the individual and health policy, the economy, culture, history, society, foreign policy—it could just keep going." Working with social historian Reynaldo Gonzalez, she compiled a social/cultural history of several dishes, exploring people's relation to food and how it changed during the "special period," the period of time during the early 1990s when, due to the collapse of the Soviet Union, Cuba lost its main trading partner. Resulting shortages of gasoline, diesel, and other oil derivatives impacted industry, health, and diet countrywide. Since many of Cuba's staple foods were imported from the USSR, the food supply was severely restricted.

Brewster ate the dishes she studied, explored their history, and conducted interviews. While she has an interest in the study of theory, she "likes to be grounded." She found that through her focus on a community's relationship to food, she was able to relate theory to real life concerns.

Back at Hampshire, working with her Div III committee of Margaret Cerullo, chair, and Michelle Bigenho, she continued to explore "how policy-led decisions on a big scale affect people on an individual level and what they're doing about it." She teamed up with Diego Angarita 04F, who works with the Holyoke Food & Fitness Policy Council, a community-led coalition of organizations, businesses, and individuals working to increase access to food and fitness opportunities.

Brewster compiled a community cookbook and wrote a paper on the process of putting the cookbook together, the historical context in Holyoke, and the current food system in the U.S.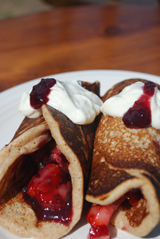 While collecting recipes from the community, Brewster asked for "healthy" recipes without defining healthy. She found that people define it in different ways, for example fresh versus processed, or homemade foods, vegetables, low salt foods, etc. She also found that people looked at the idea of healthy eating in a community sense as opposed to in an individual way. For example, one's diet is an individual decision, but the influence or support of others in the community affects the individual's choices and options. In the areas of Holyoke she studied, she also noted community connections being made around food through community gardens as well as farmers' markets.
Brewster received a grant from Hampshire's Culture, Brain and Development (CBD) Program to publish 100 copies of her cookbook. There will be a release party, and she plans to give a copy to each person who contributed a recipe. Some community organizations in Holyoke have expressed interest in other ways the cookbook could be helpful to the community. She received suggestions such as introducing it to the PTAs at local schools or distributing it at farmers' markets.
Part of what drew Brewster to Hampshire was its flexible curriculum. In retrospect, she feels this has served her well and allowed her to pursue her theoretical interests while affording the opportunity to ground them in her studies of food and community, both in Cuba and Holyoke. She hopes to continue pursuing these interests, perhaps working with a community organization in food related education.