Thousands of Tibetan refugees have made Dharamsala, India, either a permanent or temporary home since 1959, the year the Dalai Lama fled China and set up a Tibetan government in exile there. In the ensuing 50 years, a unique Tibetan society has grown in the northern Indian city.
Alana Vehaba's 05F Division III explores the often-strained relationship between Tibetans born in Tibet before emigrating to India and those who were born in exile.
Her project,
When Two Tibets Meet: Ambiguities in Unity, Narratives of Displacement
, centers around four Tibetans, two born in India and two born in Tibet, and is based on research completed during four and a half months spent in Dharamsala last year.
"Dharamsala is a unique place. It's a mix of western tourists, Dharma bums, Tibetans, exiles, and east-Asian travelers. It's a place where there's a lot of exchange, and a lot of exchange of ideas," she says.
That diversity contributes to the wide variety of experiences her subjects describe.  A young nursing student who speaks three languages is fully immersed in Western and Indian culture. When she learns a nurse is needed for a Tibetan freedom march, she drops her studies to lend her support. Other subjects each tell a part of the Tibetan story that continues to play itself out on the streets of Dharamsala: a third-generation exile with no sense of connection to Tibet; a monk who leaves the religious orders and finds himself stranded in a foreign land selling bread on the streets; and a student who traveled from Tibet. Despite expectations that the student will return home, he has integrated into society in India and is successfully building a life there.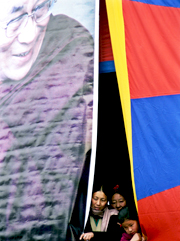 "Tibetans have fed Western interpretations of themselves, of a Tibetan person with prayer flags, a peaceful, shining image of the Dalai Lama. My thesis complicates that image. My argument is that there are two Tibets, the Tibet of Tibet and Tibet in exile," she says. "There is still an overriding view of a unified Tibetan nation, but the reality goes against that image. A gap exists between the two groups. There is a tension underground, but the conception of unity remains important. "
Vehaba credits her Div III chair, Professor Sue Darlington, and committee member, Professor Lili Kim, with helping focus the project after she returned from India, the sort of collaboration that she enjoyed throughout her time at Hampshire.
"I don't think I could have expected what Hampshire would do to me," she says. "There were so many incredible professors and really passionate students."