Give Kamil Peters 06F an oxyacetylene torch and a piece of discarded steel, and you'll soon find art where scrap metal used to be. Even as a student, the talented metal sculptor is already getting commissions for his work.

"When I got to Hampshire, I was searching for my medium. I had initially come here for sustainable living and architecture. I'd tried jewelry, pen and ink, pastels, charcoal, clay, and I couldn't find my niche," says Peters.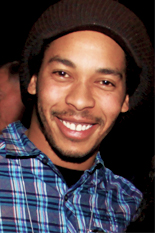 A January term blacksmithing class in the Lemelson Center with Hampshire graduate Ben Westbrook 99F finally led Peters in the right direction. Metal was his medium.

In the years since, Peters' understanding of the craft has deepened exponentially. In the summer of 2007, he completed an internship with Charles "Wink" Winkler, a metal sculptor based in Baltimore, Maryland. He learned to use an angle grinder on his pieces, and how to breathe life into raw materials.

"Wink taught me what I know now, the art of blending welds and pulling organic shapes from inorganic materials," says Peters. He notes that each of his projects calls on a variety of skills and tools, comparing it to a painter with different brushes and techniques: "My brushes are angle grinders and plasma cutters."

It shouldn't be surprising that Peters has been so open to advice. His studio arts concentration is matched by an equal interest in education, particularly alternative approaches to teaching basic core curricular studies. Peters notes that he never entirely fit the traditional educational model. It was only after transferring from community college to Hampshire as a Baldwin Scholar, he says, that he found a place that really suited him.

"There is a structure, but the leniency in the path you choose is great," he says, crediting faculty and staff for their guidance, including art professor Bill Brayton, studio arts technician Greg Kline, theatre professor Natalie Sowell, Lemelson shop supervisor Glenn Armitage and assistant Don Dupuis, and Center for Innovative Education director Madelaine Marquez.

As head of the Amherst youth arts program "Get Up Get Down," Peters teaches area students about metalworking (otherwise known as the "fire arts") while also tangentially addressing subjects ranging from science to history. He hopes the lessons connect well with the students' classroom learning while instilling a new sense of ownership in their educations. It's a central part of his Div III (senior) project.

The artistic side of his Div III consisted of 100 masks that put a modern spin on the traditional masks used in numerous African societies and commented on both the cross-cultural phenomenon of altering the face and the way art survives through the ages.

"What will happen in 200 years with these masks I'm making now? Will they still be cherished by someone else, and passed down through the generations," asks Peters. "How will this work disperse into the world? That's my focus now."