Thursday, April 8, 2010
"Who doesn't have an idea for an app?" Reeve Thompson 93F asked during a recent talk at Hampshire.

The talk, titled, "How Hampshire and My Div III Film Prepared Me for a Career in Videogames, Technology, and Business," described Thompson's work as a videogame producer and cofounder of the software company Department of Behavior and Logic.

He also demonstrated Bali, a program created by the company, which allows nonprogrammers to easily make applications for smartphones. "We like to call it iApp," he says.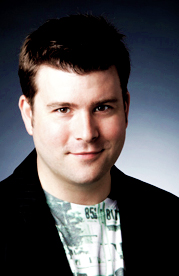 Thompson began his career in technology in 1995, while still a student concentrating in film. He went to Red Hill Studios, a multimedia developer, and set up an internship (he and Red Hill Studios put one together on the spot).

"They'd say, 'Hey, could you go check out this technology and learn it?' And I would, and they'd say, 'Great, now could you find out what's going on with this thing?' So I ended up learning all of these amazing technologies," he says.

Red Hill Studios was so impressed with him that they didn't want him to leave. He turned down the offer because he wanted to finish his Div III (senior) project, a 50-minute narrative film titled UFO Logos, and because he thought, "I was able to do this, so I'll be able to do it again."

After graduating in 1997, Thompson worked as a producer on games for Barbary Coast Interactive. "It felt great seeing people take eight years to become a producer, and I sort of got to slip under the wire," he says.

From there he went to Panasonic Interactive Media, then PlanetRX.com, an Internet company.

While at PlanetRX.com, Thompson was offered a job by LucasArts, a videogame company that mainly makes games for the Star Wars franchise. "I was a huge fan of Star Wars, and this would get me back into gaming," he says.

He considers his college experience to be a big part of his decision to leave PlanetRX.com for LucasArts. Thompson explains that "following your passion, that one thing that you bore people at parties with but that you're so passionate about," is promoted at Hampshire. "I realized, I'm too young to follow the money."

Thompson became a producer at LucasArts, and was in charge of 60 people by the time he worked on his third game. His interdisciplinary education made him a good producer, he says, because "[I needed to] talk to designers, talk to programmers. I was constantly balancing creative decisions with technology, I was constantly bringing people together."

He also met his future wife, Liz Allen, who was the head of the LucasArts marketing department. "She wouldn't date anyone she worked with, so I quit," Thompson says. "This wasn't the primary reason I left LucasArts, but it was definitely a good one." They now have a two-year-old son, Dashiell.

Thompson left LucasArts feeling "like I wanted to be more in charge, more about shaping a company." He spent three years as vice president of the much smaller videogame company Secret Level, which grew to 120 people and was sold to Sega. After three years as part of Sega's executive staff, he and Jeremy Gordon, the founder of Secret Level, "got the desire to go build something again," says Thompson.

Thompson and Gordon cofounded the Department of Behavior and Logic in February 2009, with Thompson as "President/Director of Behavior" and Gordon as "Director of Logic/CEO."

They decided to make a product to tap into all the people who want to make apps but can't. Many mobile companies, says Thompson, are trying to catch up with the iPhone's App Store, sometimes even paying developers directly to create apps. Thompson asks, "What if you could create new kinds of app developers?"

He adds that many people ask him and Gordon, "Who are you building this [program] for?" He explains, "We're building it for a space, and no one's there yet. 'If you build it, they will come.'"

As part of his talk, Thompson demonstrated Bali by making an app for Hampshire's 40th Anniversary in about ten minutes. The app included a title graphic with a menu and buttons that led to a campus map and a list of events. "And I haven't done any ?programming,'" he says. To make the app, he simply draws a flowchart-like map between different displays. "Someone can use this without actually knowing how this works," Thompson says.

Bali also includes "nodes," or small functional blocks that can be put together to create apps, including GPS functionality, or features already made by the user. "You can create nodes from nodes," he adds. "It's kind of like Legos, is how we like to think of it."

The Department of Behavior and Logic plans to give Bali away for free, and make money by selling a number of specialized nodes. "It's like we're giving away the basic Lego set for free, and then selling the special Star Wars pieces," Thompson says.