If anyone had told me forty years ago that I would be standing here addressing new and returning students, faculty and staff, and thanking parents for trusting their kid's choice of Hampshire College, I would not have believed them.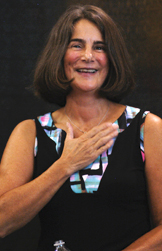 When my father and I drove up the long entryway to Hampshire College in September of 1971, I shivered with nervous excitement. It was only my second time in New England. The first was when I came up for my interview months earlier. I'd sewn myself a new red skirt and wore a sweet white blouse and sandals. I needn't have. Eliot Maxwell, who interviewed me, sat barefoot and cross-legged on the floor before me in jeans and a flannel shirt. I had arranged this passage to a brave, new world in secret, applying to transfer to Hampshire College for my last two years of study, telling no one until I got word that I'd been accepted and offered a full tuition scholarship, a National Defense Loan, and a work-study job.

Coming around the big bend in Rte. 91 at the Oxbow, I saw the Valley open into flat green fields interrupted by long, low tobacco barns. Their lean red silhouettes are imprinted on my heart. Years later, I would come back here to meet the men who worked these farms, and see the fields, with their aisles of cloth shading the green tobacco, in a new, less idealized light.

The sign at the entrance off Route 116 was simpler then, white, with three vertical bands of color: the gold, green, and terra cotta of autumn leaves. Those sturdy, tall trees you all drove past to arrive this fall were saplings spaced so far apart they were like small children whose natural inclination to cluster near one another had been thwarted. I felt sorry for what I thought of as their fragile loneliness, which was really my own. Not only was I charting a course that would lead me far away from home, I was leaping across the divide of class. Soon, the distance between my people and me would no longer be measured in miles, or hours spent on Peter Pan busses or in bus stations in Springfield or the Port Authority, but by the experiences I could not share with them. And then, decades later—and this is my story for you today—it would be my Hampshire experience that would lead me back again, to people whose stories I would learn to tell in a language as open to my parents, children of immigrants, as it was to the people I met as I made my way from Hampshire to graduate school at Stanford, then to teaching at Yale.

Turning off Rte. 9 from Hadley into the town of Amherst I caught my first glimpse of those big, clapboard houses painted pale yellow with dark green shutters and trim. Leo Marx, professor of American Studies at Amherst, mentor to David Smith, my Hampshire advisor, lived in one of them, while David, who'd given up a tenured position at a Midwestern research university to come here, lived in freshly built Merrill House, where he was the first Master. The distance between these two men, Leo, teacher to David, my teacher, though just a few miles, traced the difference between one model of education and another, between venerable tradition and radical innovation. Among the gifts Hampshire gave me was the chance to study with them both—the Five College idea, a brilliant one—and learn for myself how an upstart humanist of one generation might ask new questions of a renowned scholar of another, and so, help push the fence back, enlarge the pasture and widen the gate so others could come in.

What gave me the courage? One of the tumultuous changes that rocked us all in the early 70s—the birth of feminist scholarship. It was here at Hampshire that Miriam Slater, with her close friend, Penina Glazer, and their colleague, Gayle Hollander, created the first interdisciplinary course in Women's Studies in the Five Colleges. Suddenly nothing felt fixed or familiar as we took hold of that Archimedes lever: the question of gender in the construction of knowledge, in the organization of human relationships. Pretty soon we added the questions of race and class, as writers whose works had been out of print for decades were republished, and whole new fields of inquiry were being invented. There were tense and tearful confrontations, between women of color and white women; between teachers and students; between men and women. Virginia Woolf's argument of 1929 became our motto: the personal is the political.

I will never forget the day I read A Room of One's Own in one sitting in the Johnson Library. "Literature has been impoverished beyond our counting," she wrote, "by the doors that have been closed upon women." But then, when Woolf proclaimed that of course we know that great artists do not emerge from the laboring classes, I felt, as I had when I'd first learned of Hampshire's existence but didn't apply because it seemed hopelessly beyond my reach socially and economically, that a door had been opened, only to slam shut in my face a moment later. As the great poet of Amherst wrote, "I felt a cleaving in my Mind - / As if my Brain had split."  (Emily Dickinson, #937, c. 1864)

A vignette. September 1971. My first college reception. I stand paralyzed before a great round cheese, (called a "wheel," as someone informed me) fingering a strange implement whose purpose eluded me, though I was hungry, and eager to carve myself a slice. My family loved cheese—Parmigiano, Romano, mozzarella, and my favorite, provolone. But I'd never seen anything like this cheese. I was about to plunge the curved blade with a narrow slit across it into the cheese's pristine yellow face when I turned to a classmate behind me and said, "How do you use this thing?" She gently took it from me and pulled it across the surface, a ribbon of Jarlsberg curling up toward her hand. It was kindly done, but stung nevertheless. My cheeks burned.

Coming north meant coming away from the distant horizon of Blindman's Beach on Navesink Bay to the gentle curving line of the Holyoke Range, foothills of the Berkshires. It was leaving behind my first home in nature—the ocean beaches of Sandy Hook, where we dressed ourselves in seaweed gathered along the shore. It was learning that here garage sales were called tag sales, and submarine sandwiches were inexplicably named "grinders." Most shocking was the loss of Grandpop Natale's thin-crusted tomato bizza for thick-crusted rounds of dough loaded with strange vegetables coated in cheesy goop. People on my hall in Dakin, excited on a snowy afternoon, would call out, "Red wax or blue?" They'd actually iron their skis. And everyone whose name was a twin of someone famous actually turned out to be related to them—Rockefeller, Goldwyn, Penn, Belafonte. Many of my classmates went to schools with names I'd never heard before—Exeter, St. Paul's, Mt. Herman. They came here reading Homer in the original Greek, able to recite Virgil in Latin. They'd read children's books I'd never heard of, in French, and flew off to foreign countries to ski on holidays. They spent January Term in exotic internships their parents had arranged for them. There were a hundred, perhaps a thousand abrupt encounters with a foreign world of unimaginable privilege where everyone seemed to know so many things I did not. They spoke a language opaque to me, and walked confidently down paths I could not see. It was the most painful culture shock of my life. And one of the most empowering of lessons.

From the moment in 1968 when Victoria Taylor, my high school creative writing teacher, told me to check out the Hampshire College admissions information, I'd felt that Hampshire was my philosophical home, the only college for me. Mrs. Taylor's cousin was Van Halsey, Hampshire's first director of admissions. Like so many of Hampshire's first administrators, including Chuck Longsworth—president while I was here (I like to call him "my president")—Van came down the road from Amherst College. If we who came here in the first years are thought of as pioneers, they, who left secure jobs with more predictable futures in order to bring this college into being, were even braver. Their courage and idealism anticipated ours. But who, or what, could have prepared me for everything represented by that first, red-cheeked moment standing before the cheese?

Could it be that I'd been right to be afraid of the social and economic barriers between me and the blond, straight-toothed, beautifully dressed women of Smith and Mt. Holyoke pictured in Hampshire's admissions literature about the Five College system? Were only the blessed and the beautiful certified to gain access to the life of the mind? My answer—an emphatic no—came to me through the intervention of two teachers: Miriam Slater, first master of Dakin House, and her husband, Paul. Miriam and Paul knew where I'd come from; they understood who I was, what I found hard, and why. Having made the journey themselves, they became my loving, vigilant guides. If you ever feel lost here, find yourself a guide. Whatever obstacle may present itself to you, let me tell you—here you can learn to see it differently, to move around it, to make a route to what you see and long to know. Make your own path. The learning will empower you to meet other moments when you know where you want to go but aren't sure how to get there.

And so, I came north. Coming north was coming to Frost country, Robert Frost, that is; to the haunted landscape of Quabbin Reservoir, with its remnants of five ghostly towns, and hearing the poet's voice as we walked deep and deeper into the New England woods, past cellar holes "Now slowly closing like a dent in dough." ("Directive") Coming to Massachusetts was coming to the literary landscape of the American Renaissance that David Smith taught us how to see: the landscape of Thoreau and Hawthorne, of Emerson and Jonathan Edwards, whose church door still stands open, waiting for you to pass through it, on the main street of Northampton. It was coming to Deerfield—not the Academy—but the site of a massacre during the King Philip's War of 1675-76, the costliest war in American history, the final attempt of the Algonquian speaking tribes to drive the invading English from their ancestral lands. The English prevailed, establishing their power to govern the place they called "the garden of New England." This was the site of America's earliest culture wars.

Most important for me, coming to Amherst was coming to the place where Emily Dickinson revolutionized American poetry. The Dickinson family house, where you can see how small her writing table was, is just up the road. I hope you will visit it soon and often. And read her work in the original form she composed it, without the precious, stilted efforts of her first editors, who tried to tame her genius by inserting all those capitalized first words and fake line breaks. Dickinson remains my emblem for what is possible here: unprecedented imaginative freedom in a place thick with history and tradition.

I've been away from Hampshire for more than 37 years. Much has changed here; in many ways the offerings are far richer, more diverse. But the core idea remains: to know is not enough. You won't be working for grades or credits. You will not be able to measure your progress, or your calculate your status in relation to your peers, with reference to a cumulative index, a class rank, or prizes—all those tin pots, as Virginia Woolf called them, that big universities hand out along the way to encourage you to remain fixed on the need for external validation. As I see it, your essential tasks are two: to figure out what your questions are, and to find your voice as you set about seeking answers. You must do; you must seek, search, discover, invent, and integrate. Children of the digital age, you must be mindful of the difference between information and knowledge; between knowledge and understanding; between understanding and wisdom. Hampshire's commitment to a radical experiment in learning is more important now than ever. We are living through the equivalent of another Copernican revolution. We humans must no longer consider ourselves at the center or the apex of creation. Learning, the pursuit of culture, must now reconnect us with nature, for our own sake, for the sake of the world. As Aldo Leopold wrote in "The Land Ethic" more than sixty years ago, we must give up our presumed role as masters and take our place as "plain citizens" of the ecological community he called "the land."

As I did forty years ago, you have chosen a different kind of education. Cherish every gift that comes to you in your time here. Discount no one. Learn from everyone. Make mistakes without shame—laugh at yourself. Ask for help when you need it. Never pretend you know when you don't. It's a prideful habit that will stifle your creativity, and we need—the world needs—your creativity and your clear-eyed passion. Work hard. Then go outside into this powerful, good, and beautiful landscape and play. Think about Bob Stiles, whose farm this used to be—whose orchard you walk through to get to the library, and whose asparagus used to grow where now stands Aaron Lansky's quintessential Hampshire enterprise, the National Yiddish Book Centre. Bob Stiles walked among us those first years, smiling from behind his wire rimmed glasses, talking softly, with tender fondness for us all, telling us stories in his thick Yankee accent. Back then, I had no idea what it meant to have him with us. It was decades later, when I walked away from my career at Yale, and set out across the country to record the oral histories of ethnic farmers and gardeners—immigrants, Native Americans, and the descendants of enslaved Africans, asking them to talk to me about the meaning of their land—that I came home, intellectually and spiritually. I gathered these stories together into a book called, The Earth Knows My Name, which earned me an American Book Award in 2007. It was my training in independence of mind right here in this orchard that prepared me for the work I now do.

In 1991, when I found an old photograph that linked my mother's family to the day Sacco and Vanzetti were executed, my need to know its story led me to the letters Sacco and Vanzetti wrote from prison. From his solitary cell, responding to a letter sent him by the daughter of Irish immigrants, who'd described her family's wheat fields to console him, Bartolomeo Vanzetti wrote that his father's gardens in Italy reflected "the genius of the universal architect." "…the forget me nots are nations there," he told her, "and nations the wild daisies." Two questions formed in my mind: could a garden be about justice? Could a garden be a form of embodied memory, holding within it the memory of a people and a place? Traveling the country for three years, walking side by side with men and women who'd grown up working the land, I found that every ethnic grower I talked to understood my questions immediately, and every one of them said yes. As one Gullah elder taught me, "You got to love your land just like you love your husband or your wife."

One of the chapters in my book is called Community. In it I tell the story of the Puerto Rican community gardeners of Holyoke, the first planned industrial city in America, about half an hour from here, just over the notch, past Mt. Holyoke College. The men who built the factories of Lowell and Lawrence came down to dam the Connecticut River there, and built brick factories. The mills, powered by water driven turbines, were worked by cheap immigrant labor twenty-four hours a day, seven days a week. The last to come, brought here as migrant farm workers just as the factories were closing, so that rents were cheap and easy to find, were Puerto Ricans, America's last colonial people. Bent over, or shuffling forward on their knees as they harvested asparagus, cucumbers, tobacco, or gladiolas on big farms up and down the East coast, their stoop labor, as it is called, paid poorly and cost them dearly. Though they might help empty a railroad car's worth of broccoli, washing and packing a hundred thousand bushels a day, few of them could provide fresh, safe food for their families. Now they belong to Nuestras Raices, which means "Our Roots," a community garden cooperative that began with a single garden created in 1991 by a Hampshire College student, Seth Williams, as part of his Division III project. They get up early and stay late, working their ten by twenty-five foot organic gardens at La Finquita, "Little Farm," where they grow enough food to feed their families for a year and sell the rest at farmers markets. Nuestras Raices has grown into a cooperative that includes La Finquita and seven more gardens throughout the city. They have their own greenhouse, classrooms, a licensed community kitchen, and mentoring programs for children. In the last few years they have bought land and created a farm with an educational center beside the Connecticut River. Here in your college's backyard, a disenfranchised minority offers the world's richest nation a model of small, local, and sustainable agriculture as an answer to urban poverty. And it began with one student, some tools, and countless sweat hours, who turned the project over to the community, who made it their own. Seth Williams may not be Hampshire's most famous alum, but his work has changed the lives of hundreds of people. So can yours.

In closing, I say to you: Be courageous, be disciplined, be exuberant. Remember that no question is too simple or naïve to ask. Whether you come here from an elite private school, or, as I did, from a huge suburban public school; whether you are, as I was, the first generation of your family to get a college education, or the fourth, or fourteenth; whether you arrive confident in your intellectual powers, secure in the knowledge that your education is paid for, or anxious, as I was, because you signed your way into debt in order to come to this small college tucked into Bob Stiles' farm…wherever you have come from, however you made your way here, this is now your place. Hampshire College is at once an island community, created to encourage boldness of thought and the rigors of self-discipline, and it is the port out of which you will steer your frail bark into the world, different from who you were when you came here, and eager, I hope, to make a lasting difference. By then you will be prepared to meet your moment in history. Congratulations as you begin, and welcome.