Tuesday, November 30, 2010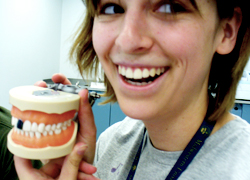 For Allison van der Velden 03F, isolating a novel genus has given way to flossing, fluoride, and filling cavities. Allison is enrolled in her second year of dental school at Midwestern University in Arizona. This is a big leap for a former aspiring linguist.

"When I graduated from high school, I thought I was going to do language and religion," she said. However, after taking one of Hampshire Professor Jason Tor's microbiology classes, she took an interest in the field. A subsequent independent study with him blossomed into a three-year project.

"For the whole project I had samples that Jason had taken from Death Valley from a salt marsh, soil samples from a dried-up salt lake. I isolated whatever bacteria I could," she said. The result was a previously undiscovered bacterium, salinicola aquaputidensis. "Naming it was the best part!"

Van der Velden graduated from Hampshire with an array of options for her future. She considered medical school, veterinary school, and dental school.

"When my mother suggested dental school, I laughed at her," she said. She warmed to the idea after consulting her dentist. Shortly thereafter, she enrolled at Midwestern University.

"I get to work with people one on one. I get to make a big difference for a small group of people. I can significantly improve the quality of someone's life," she said. "That was important to me; I want to have a skill where I can make a difference somehow."

Her Hampshire education has proven beneficial at dental school. "Because I was taught at Hampshire how to read scientific articles, not just for my Division III but for other courses, I have a huge advantage in reading them and doing other research," she said. "I think that there's a lot of value in being a little more well-rounded. Those critical thinking skills set me apart from my classmates."