Interior design and renovation projects by Christina Salway 00F featured in The New York Times, Boston Globe, and NBC's The Nate Berkus Show.
By Michael Samuels 09F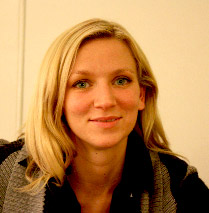 "When I was in high school, I frequently dragged home things that I'd discovered abandoned in the alleys of my neighborhood," says Christina Salway 00F. "And then when I arrived at Hampshire, everyone was so accepting of that same salvage-recycle-renovate philosophy, it only reinforced that idea as I entered into my professional life."

Salway created and owns ElevenTwoEleven Design, an interior design company based in Williamsburg, Brooklyn (the zip code is 11211), where she also lives with her husband, fellow Hampshire alum John Moskowitz 01F.
"I discovered that there was an untapped market in New York City for low-end, small-scale renovation projects," Salway recalls. "There are so many people in the city looking for design guidance but lacking the big budgets required or expected by most interior design firms. I really felt that I could make good design more accessible while also making a viable business for myself."

She felt right. From smaller projects like designing nurseries and redecorating psychoanalysts' offices to larger scale renovations like the eco-conscious overhaul of a recently completed barn, ElevenTwoEleven found a significant clientele. "We began doing tiny projects with miniscule budgets and now do projects that really span the range from $1,000 budgets to $50,000 budgets," says Salway.

The company's services are kept accessible to this broad range of budgets because, Salway continues, "I regularly focus projects around things my clients already own rather than encouraging them to buy more.

"And then of course, I love buying used-vintage-antique pieces that people might otherwise discard and giving them another lease on life." To keep that cycle going, she donates her clients' unwanted furniture and accessories to local charities, "so that someone else will hopefully get another use from it."

Salway's first publicity, a Boston Globe article, came from her Division III (senior project) at Hampshire, giving "another lease on life" to a 1970s RV. With her Div III committee - Lemelson Center director Colin Twitchell and professors Sura Levine, Gretchen Schneider, and Karen Koehler, who Salway says all challenged her "to explore the various perspectives of architecture and examine my own project from historic, aesthetic, and pragmatic angles"- the Lemelson Center, and some parental labor, Salway converted the RV into a cozy guest-cabin for Moskowitz's parents, her first clients.

In 2009, Salway was in the papers again. The New York Times ran a story - and online slideshow  - about what Salway and Moskowitz call "our little house upstate." The couple renovated and redecorated the 700-square-foot cottage on less than $13,000, with windows, furniture, and appliances found on Craigslist, in thrift stores, and in dumpsters, a garage-turned-living room, and decorations from yard sales and the street.

Salway and the cottage were also featured on NBC's The Nate Berkus Show this September.

The Globe reported that, before Salway started her Div III project, she "didn't know a bandsaw from a jigsaw." The Times says that Salway and Moskowitz had never renovated a house before their upstate cottage. But that clearly hasn't been a problem. The handiness of her parents, and the "let's try it" mentality of her Hampshire professors, have had a big influence on Salway.

"I think that exposed me to the notion that anything can be done," she says. "You just have to figure out how to do it."