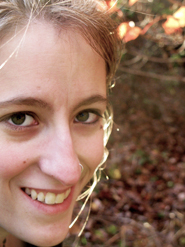 "When you're thinking about education, you don't think about the people who fall through the cracks of the system," Sophie Lembeck says.

Her Division III project, entitled Turnaround: An Autobioethnography of Adult Learners' Dropout and Return to Education, highlights the successes of an under-acknowledged population: adults who pursue a high school equivalency diploma later in life.

Lembeck worked with the Holyoke Community College (HCC) Adult Learning Center, teaching a creative writing and arts course to adults seeking their high school equivalency diploma. Their ages ranged from 19 to 55.

"The course focused on writing about emotional and traumatic educational experiences," she says.

It culminated with a show and poetry reading of student work, held in the Tavern, a gallery space on the Hampshire campus.  "It was a really exciting experience to have their art hanging on the walls. It brought to light this important and overlooked issue of adult basic education," Lembeck says.

The works will be installed in the lobby of the Picknelly Adult and Family Education Center in Holyoke.

Lembeck is quick to point out that her project is the result of collaboration among herself, her committee, and her students. "I hate that I have to put my name so prominently on the cover of my Division III—it's their piece, their stories," she says. "They are as much a part of this project as I am." 

The final part of Lembeck's Div III is a paper that highlights some of the major issues that result in people dropping out: transiency, family issues, high incidence of teen pregnancy, and violence.

Lembeck says her committee played an integral part in her studies. She describes working with Associate Professor of Education Studies Professor Kristen Luschen as "an honor. She changed the way I thought about education." And, the other committee member, Mellon Postdoctoral Fellow in Critical Literacies and Pedagogy Judith Flores Carmona "is inspirational."

Director of the HCC Adult Learning Center Aliza Ansell also played an important role in supporting the project, becoming "almost a part of my committee," Lembeck says. "The entire staff at the Adult Learning Center has been unbelievably supportive."

Hampshire's interdisciplinary approach gave Lembeck the perspective for the project: "It all ties together. [At Hampshire], I can be an independent learner and go out and make these projects and make them work. It's given me a lot of confidence, academic and otherwise."

"I think everybody should go here," she says. "Everyone needs the opportunity to see how community and academia interact."

Lembeck will continue studying community and education at New York University in the fall, when she begins a master's program in sociology of education.