Tuesday, April 26, 2011
Your Facebook account says more about you than you realize. Daniel Chapsky's Division III is a study of 615 individuals' behavioral tendencies, collected through custom software that he designed.

Chapsky created an application through which a group of respondents answered a series of questions about themselves, via the social networking site. When the application was installed on their accounts, their profile info was automatically transmitted to Chapsky.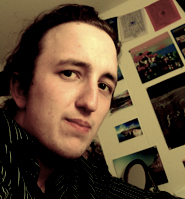 He organized the data around the "Big Five Theory of Personality." The theory is used to describe human personality through five traits: openness (appreciation for art, emotion, or unusual ideas), conscientiousness (self-discipline, ambition), extraversion (energy, positive emotions), agreeableness (tendency for compassion and cooperation), and neuroticism (a tendency to experience unpleasant emotions easily).

"Each person has an immutable underlying personality that can be robustly expressed through the five personality factors," Chapsky says. "Essentially, each of those factors is a dimension of personality, meaning that a large part of an individual's personality can be captured through that five-dimensional personality space."

The information Chapsky collected was processed using a Bayesian network, a formula that illustrates the probability of relations among random variables. He was able to predict a user's tendency toward the five emotions by analyzing the data collected. (For example, a white male who likes Lady Gaga and has fewer than 500 Facebook friends has a significantly higher chance of being neurotic.)

"On its own, my project is a successful proof of concept," Chapsky says. "It [indicates] that people's underlying personalities can be predicted based on how they portray themselves online."

The method of collecting data from Chapsky's project provides numerous possibilities. "The most obvious application is targeted marketing. By automating personality discovery, ads and products could be catered more to the individual," he says. "Extraverted people could get ads for products that help them stay socially connected. Neurotic people could get ads for things to help stabilize their lives."

For Chapsky, who entered college without a specific course of study in mind, the Hampshire educational model provided the ability to guide himself. "I figured out how to work on my own projects and do them well," he says. "I learned how to learn, how to be curious, and how to explore things that I'm interested in."
 
Chapsky's work has been accepted for presentation at the useR! conference in Coventry, England, in August 2011.

Faculty committee: computer science professor Lee Spector (chair) and psychology professor and Dean of the School of Cognitive Science Neil Stillings.