Wednesday, May 18, 2011
"I've got quite a long title for my Div III," warns Michael Beggs.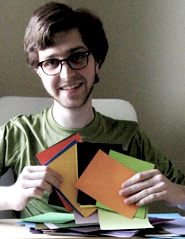 Learning Art: Contemporary and Past Approaches to College Arts Education, Black Mountain College, Josef Albers, Color, and the Didactic Art Exhibit is actually made up of three related projects, addressing both the theory and the practice of teaching art.

For theory, Beggs wrote a history of the use of interdisciplinarity at Black Mountain College, an experimental college outside of Asheville, NC, from 1933 to 1956. Although Black Mountain is remembered as an art school, Beggs explains that it was in fact a liberal arts college, but one where "art was conceived of as a process that could be applied to any discipline."

For practice, Beggs taught a January term course on color theory, then curated an exhibition of almost 50 works from Hampshire's permanent art collection in the College's main gallery. The exhibition, titled Abstraction/Subtraction, centered on reductivist abstraction.

"That's a form of art education," Beggs says of curating an exhibition. "That's a form of teaching people about art, or in my case teaching them about a concept or process in art."

"Even though I don't have a single project that's about Josef Albers, he's in all of them, and I came to most of these subjects through an interest in Albers," Beggs notes, referring to the painter and color theorist who left the Bauhaus art school in Germany in 1933 and taught at Black Mountain for 15 years. Beggs's January term class was based on Albers's teaching methods, and some of Albers's prints were included in Beggs's exhibition.

Beggs first encountered Albers in the fall of 2008 in Professor Karen Koehler's class, The Bauhaus. Koehler, who was on Beggs's Division II committee, and then became his Div III co-chair, suggested an internship with the Albers Foundation.

"I got the internship at the Albers Foundation and then I became absolutely fascinated with him," says Beggs.

His interest in Albers strengthened Beggs's wider interest in the history and practice of teaching art. At the same time, he says, Hampshire gave him the freedom to be interdisciplinary in his study of interdisciplinarity. "My committee, although they're both art historians, were both very willing to go down these other roads with me," he says. "That was a real advantage."

Faculty committee: Art history professor Sura Levine, art and architectural history professor Karen Koehler.