Tuesday, November 8, 2011
"I'm delighted - " Cyd Melcher 79F began, then stopped. "I always say 'I'm delighted to be here,'" she said, "but I'm really delighted to be here."

Melcher was beginning her introduction of Thai labor leader Jittra Cotshadet, who was about to speak about her workers' and women's rights efforts at a luncheon organized by Hampshire's Civil Liberties and Public Policy program.
Cotshadet came to the United States this October through the State Department's International Visitor Leadership Program (IVLP). Melcher, who is Executive Director of the World Affairs Council of Western Massachusetts, participates in the IVLP as a coordinator and guide for foreign leaders in the region.

"You see a lot of world leaders come to the United States through this program," Melcher said, noting that French President Nicolas Sarkozy came when he was a mayor. "When Jittra is elected Prime Minister of Thailand," she told the students, faculty and staff at the luncheon, "You'll be able to say you met her here."

The program is "for an exchange of ideas," Melcher explained after the luncheon. "We have something to teach the visitors, and they have something to teach us. Usually that's perspective." She described embarrassed administrators at an under-funded public school who didn't understand why Melcher brought rural Brazilian teachers to see it, until those teachers expressed their amazement that an under-funded school had centralized heat and every room had four walls. She recalled a local teacher moved to tears when a visitor from Gaza said he would use her icebreaker game in his work to build understanding between Palestinians and Israelis.

Cotshadet is not the first participant Melcher has brought to Hampshire. She had African college administrators come talk with Hampshire's advancement staff. The World Affairs Council also hosted a panel on Korea's future at Hampshire in 2007. While Cotshadet's intersecting work with labor rights and women's rights certainly interests many students and professors at the College, Melcher said it was what Hampshire could offer Cotshadet that sealed the deal.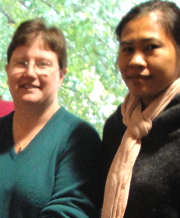 "The program coordinator said, 'Can you bring her to a Planned Parenthood?'" Melcher recalled. "I said, 'Planned Parenthood is everywhere, but Hampshire has RRASC.' He looked at the website and said, 'Put this at the top of the list.'"

Melcher also gave Cotshadet a tour of Hampshire. "I'm really happy to be here at the College," Cotshadet said through an interpreter at the beginning of her talk. "Cyd told me about this college, and you should be proud to be able to study and work here."