Wednesday, August 8, 2012
Erick Msumanje 09F has been awarded the Princess Grace Foundation-USA's 2012 John H. Johnson Film Award, a highly-competitive scholarship awarded to an undergraduate student working in film.
Msumanje plans to use the scholarship money to make his Hampshire College Division III film, tentatively titled My Mother's Songs. The scholarship will enable him to return to his home country Tanzania to film.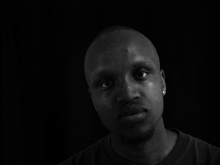 "Filming in Tanzania has always been my number one goal," he said. "(The scholarship) gives me an opportunity to go back to the world I called home, where I took my first steps, where my father took me to see my first film."

He is drawing on stories from within his family for the film, working closely with his mother and aunt.

"The movie looks at intergenerational trauma from a collective colonial experience, the realization that you are left with little control over the conditions that shape your life," he said.

The Princess Grace Awards, announced August 7, continue the legacy of Princess Grace (Kelly) of Monaco, who helped emerging artists pursue their goals during her lifetime. Winners will receive their awards at the 30th Anniversary Princess Grace Awards Gala, held in the presence of the prince and princess of Monaco, on October 22 in New York City.

Msumanje's letter of nomination for the John H. Johnson Film Award was written by fim and video professor Baba Hillman.

Professor Hillman has been an important mentor, according to Msumanje. "She has taken time to push me critically and aesthetically," he said. "She has really helped me develop as an artist and I thank her very much for that. She did not stop believing in me and has always been patient and willing to work with me."

Hillman is equally quick to praise Msumanje's work: "Erick is continually working towards finding a deeper understanding of his own history, his family's and his country's histories. His previous films, The Devil's House and Journey, speak of trauma, race, and displacement in a way that is powerful and illuminating."

"Erick is a gifted actor, writer, and cinematographer, but most of all he is a storyteller of rare eloquence and maturity. I have learned a great deal from Erick and I'm grateful to have the privilege of working with him," Hillman said.

The Princess Grace Foundation-USA was formed after the death of Princess Grace in 1982. The publicly supported organization gives scholarships, apprenticeships and fellowships to emerging artists in theater and playwriting, dance and choreography, and film.