Monday, August 27, 2012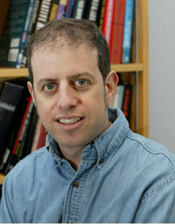 As the largest gathering in its field, the Genetic and Evolutionary Computation Conference (GECCO) draws participants from around the world. At this year's event in Philadelphia, Hampshire computer science professor Lee Spector was pleased to have so many of his students join him in presenting there.

Kwaku Yeboah Antwi 10F and Omri Bernstein 08F, as well as alum Kyle Harrington 03F, were among a group from Hampshire's Institute for Computational Intelligence whose presentations were featured during the weeklong conference that ran from July 7 to 11.
Professor Spector leads the group, which focuses on a specific type of artificial intelligence and also includes doctoral students from Five College campus UMass Amherst (two of whom also participated at GECCO).

Spector is also a member of the executive committee of the Association for Computing Machinery's genetic and evolutionary computation special interest group, SIGEVO, which runs the GECCO conference.

"When you go and see these presentations, it makes the field a lot more real and approachable," said Spector, who had several individual and co-authored paper presentations of his own at this year's GECCO. "You can see if someone's work is not quite right, or if it could be a lot more interesting if it was done in another way. It helps students become much more comfortable drawing their own conclusions, and develop confidence in their own abilities to do this stuff."

Both Antwi and Bernstein presented at GECCO's undergraduate student workshop. Bernstein's presentation was titled "Flea Market Simulator: A Market Simulator for Experiments on the Computational Evolution of Trading Strategies for Economic Agents," while Antwi's was "Evolving Software Application Using Genetic Programming: PushCalc: The Evolved Calculator."

"The whole conference was spectacular and interesting, and provoked a number of new directions for various projects and ideas. It's hard to quantify, but random conversations always seemed to spark surprisingly exciting ideas," said Bernstein. "I was also surprised by the level of sophistication and cohesion of discussions that happened frequently at workshops, and often after paper presentations."

The Institute for Computational Intelligence is now in its fourteenth year, and supports advanced artificial intelligence research by undergraduates in collaboration with faculty and other advanced researches through courses, independent study activities, and interactions with the broader research community.