Thursday, September 13, 2012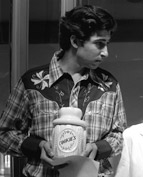 Hampshire graduate Taj Musco 99F recently made the shortlist for the Louis Vuitton Journeys Awards. The Journeys Awards, established three years ago, promote young, upcoming filmmakers. Two winning filmmakers will each be awarded a $25,000 cash prize.

Evening Shift, Musco's short film, was shot in Singapore, where he is studying at the TISCHAsia School of Arts. Although he has been in Singapore for two and a half years, Evening Shift is the first film Musco has set there. "I wouldn't feel comfortable just moving to a new country and making a movie set there when I wasn't understanding the culture," he says.

"Our joke is that you need a permit to scatter ashes in Singapore," Musco says, referring to the bureaucratic nature of daily life there. The five-minute film opens with an elderly widower spreading his partner's ashes into a body of water, only to be accosted by a police officer for scattering ashes without a permit.

The officer takes the man to "The Ministry of Death," where an attempt to get a permit to scatter the ashes evokes the officer's sympathy.

"Because the theme of this year's Journeys Awards is 'encounters,' the film is about two people meeting, who might otherwise never meet, and having a positive influence on each other," Musco says.

Musco is currently submitting a longer version of Evening Shift, entitled Ash, for consideration at film festivals.
View other work by Taj Musco 99F: www.tajmusco.com