Tuesday, September 18, 2012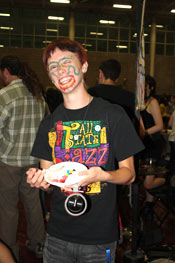 I never thought I would get nostalgic at Hampfest. It's a student group showcase, where each of the College's more than 100 clubs gather to present themselves and woo new members.
As a student-writer for Hampshire Communications I've covered the event every year. It's always fun and always fascinating. (What's Wool People? Why is that Emergency Medical Technician on a unicycle?) At this fall's Hampfest, on Wednesday night in the Robert Crown Center, I had a moment.

If the student groups aren't enough to bring people in, Hampfest is also known for a huge selection of free ice cream. The line for ice cream this fall, as usual, stretched from one side of the giant room to the other, close along one wall. Waiting in that line, I turned right and suddenly saw Hampfest. As I said, I've covered Hampfest every year, but this time I really saw it. Herbs growing on Hampshire Slow Foods' table, Mythos bristling with LARPS, Crew Team Comedy trying to keep straight faces, the Red Scare passing a Frisbee.

Then Yurt Radio, live from the Robert Crown Center, put on "Low Rider." The dancing started, of course, with the Contra Dance Collective, and quickly spread to the Salsa Rueda and Tango Club. The Gin & Tonics a capella group didn't need prompting, and neither did ReRad. Within seconds, everyone in the RCC was dancing, the sensory-overloaded first-year students as they made their way from table to table, and the weary Div IIIs shimmying, just a little, as they thumbed through the newest issues of The Reader and The Quick Brown Fox. The Jewelry Collective waltzed with their jewelry and Circus Folk Unite! shuffled on stilts. Mixed Nuts and Mad Science, Raíces and New Leaf, Aliz and the Blacksmiths' Guild, the Equestrian Team and the Film Society, were all dancing.

This is my last year at Hampshire, and somehow it's taken me all of this time before I realized what Hampfest was. Of course, it's a showcase of student groups, so that we can all be up-to-date on what's going on around us. However, as I stood and waited for ice cream, I realized what that means: Putting everything that's going on at Hampshire all together, in one big room, means making a microcosm of the College. That everyone in that microcosm was dancing seems like a pretty good indication that, almost four years ago, I picked the right school.

Afterward, as the groups packed up their banners and folded up their chairs, I went and put my name on the Contra Dance Collective's email list.