Tuesday, October 2, 2012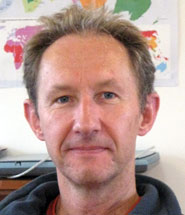 The Grandson of Apartheid Prime Minister
Brings Message of Peace and Reconciliation

When Wilhelm Verwoerd visits Hampshire, his message will focus on peace and reconciliation. It is a significant moment: the grandson of the "Architect of Apartheid" will address the first U.S. college that, in 1977, divested from South Africa.

Hampshire invites the public to three open presentations by Verwoerd:

October 13 at 7:30 p.m.
"Peace and Reconciliation in South Africa and Northern Ireland"
Franklin Patterson Hall (west lecture hall)

October 16 at 8 p.m.
"Journeys Through Conflict: South Africa, Northern Ireland, Vietnam, and Iraq" Franklin Patterson Hall (west lecture hall).
Montague resident Al Miller and Northampton resident Tyler Boudreau will join Verwoerd in this program of personal narratives. Miller is a poet, writer, and farmer who served in Vietnam with the U.S. Army and was wounded in action. He is a volunteer speaker with the Veterans Education Project. Boudreau served in the U.S. Marines for 12 years. He deployed to Iraq as a captain in 2004 and is the author of Packing Inferno: The Unmaking of a Marine. In 2008 he traveled to Amman, Jordan, on a public diplomacy mission to investigate and raise awareness about the ongoing Iraqi refugee crisis. He is currently a doctoral candidate at the University of Massachusetts.

October 17 at 5:30 p.m.
"Religion and Political Conflict: South African Apartheid and the Northern Ireland Troubles"
Franklin Patterson Hall (faculty lounge)

Verwoerd was a small boy in South Africa when his grandfather (Prime Minister Hendrik Verwoerd) was assassinated in 1966. After more than two decades of questioning all that surrounded him, Verwoerd grew to understand apartheid as systematic dehumanization. Ultimately, he joined the anti-apartheid African National Congress. He was a researcher for the Truth and Reconciliation Commission under Nelson Mandela's government of national unity, investigating apartheid-era human rights violations and working for healing. Mandela wrote the foreword to Verwoerd's autobiography, My Winds of Change.

Over the past decade, Verwoerd has continued his work of reconciliation in Ireland, serving as a coordinator and facilitator with the Glencree Survivors and Former Combatants Program. He has worked closely with Alistair Little, the former Ulster Volunteer Force member whose story is depicted in the award-winning film Five Minutes of Heaven.

In his continuing commitment to undoing the legacy of apartheid, Verwoerd plans soon to return to South Africa. He will be a resident in a multiracial, economically diverse community that is an experiment in social justice and sustainable living.

His October visit to Hampshire College is part of the planning and preparation for a spring and summer 2013 international project involving former combatants in five countries. Funded by the Fetzer Institute, the project will focus on gathering and sharing information from a range of positive examples of nongovernmental organizations that promote peace, reconciliation, and social healing in the aftermath of political violence in conflict zones around the world.

Hampshire College is an academic partner of the 2013 project. Humanities professor Robert Meagher will coordinate presentations within the United States to share information learned from the international project.