Thursday, January 24, 2013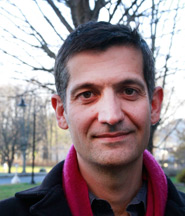 Are living things involved in the creation of minerals?

Hampshire College microbiology professor Jason Tor and an interdisciplinary team of Five College consortium professors recently received a $40,000 grant from the Keck Geology Consortium to investigate just that.

The funding will support the group, with the inclusion of six students, in field and laboratory research aimed to determine whether or not microorganisms play a role in formation of the carbonate mineral dolomite in the salty terrain of California's Deep Spring Lakes.

"It's relatively rare for dolomite to be formed in modern environments. In the scientific community, there's some debate on how it's formed. One thing we think is that microorganisms might be playing a role in the mineral's formation, creating conditions favorable to precipitate out of solution. That's what we're going there to study," said Professor Tor.

Tor's initial interest in Deep Springs Lake was sparked by the Division III research of Andrew Torrens 05F.

"Andrew was studying the diversity of bacteria out there. The lake is not well studied, and few people have gone out to take samples," said Tor. "He did good preliminary work."

The Keck grant proposal grew out of another recent proposal to NASA seeking funding to develop an astrobiology institute within the Five Colleges. That project didn't receive a grant, but Tor's collaboration with Amherst College geology professors David S. Jones and Anna Martini, Mount Holyoke College astronomy professor M. Darby Dyar, and Smith College geology professor Sarah B. Pruss led to this related grant application.

"This could be part of another proposal to NASA when their next funding cycle opens up. It may be of interest to NASA because carbonates have been discovered on Mars, so there's potential that this research could contribute to our understanding of mineral formation and the potential for microbes to mediate the process," said Tor. "You can learn a lot about the past by studying modern environments, and this research will help us build a better proposal to bring an astrobiology institute here."

The professors and students will spend a week collecting samples and performing experiments around Deep Springs Lake, examining how microorganisms might affect the formation of carbonate minerals in the lake. Three additional weeks will be spent in Hampshire's and other consortium laboratories conducting more research and delving into the raw data accumulated during the field research.

Tor noted that the work will also be the basis for long-term research and education on campus: "These samples that we collect will be used in Hampshire classes like geomicrobiology," he said, adding that the study of microorganisms with the potential to contribute to mineral formation has become a focus of his own research.