By Michael Samuels 09F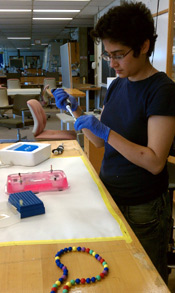 Nicole Dhruv 09F is a perfect example of how two disciplines are better than one. Her Division III examines the previously unstudied link between the psychological concept of autobiographical memory (AM), the stress-related chemical cortisol, and a mutation of the genetic region 5-HTTLPR in people with depression and stress disorders.

"5-HTTLPR, cortisol levels, and stressful life events have all been studied together and apart, and have been proven to be related to depressive behavior," explains Dhruv. "Stressful life events and AM have been studied together and apart and have been proven to be related to depressive behavior."

"What happens when we study all of these variables together?" she asks. "Will we be able to define new significant relationships between variables associated with depression that haven't been made before because they're usually studied as two different disciplines?"

When she first came to Hampshire, Dhruv says she wanted to study almost everything. Classes with biology professor Lynn Miller and cognitive development professor Melissa Burch helped narrow it down.

For Division II, "I wanted to acquire as much knowledge about biology and psychology as I could," Dhruv says, "so I could define a middle ground between the two where my ?true passion' exists."

She spent the next summer in a lab at Harvard University with alum Martina Risech 06F.  Then she came back to the College, studying the biological elements of depression with Professor Miller and helping with the genetic element of Jake Vogel 10S's Division III. In the spring, Miller asked her to TA his Gene Cloning course, which would mean leading her own full lab-based study. Dhruv took the opportunity, combining what she'd learned from working with Miller and Vogel to create her own way of looking at depression.

At the same time, Dhruv was working as Professor Burch's research assistant. In her third year, they were preparing to present their findings at the Eastern Psychological Association conference.

"I wanted to find a way where I could bring the work that I'd been doing in the Molecular Bio lab together with the work I'd been doing with Melissa on memory, emotion, and self to create a largely interdisciplinary Div III where I could study everything I do all at once," Dhruv says.

After graduation, Dhruv has a full-time research position in a developmental neuropharmacology lab at Harvard Medical School and McLean Hospital. "It'll be about a three-to-four-year commitment basically doing all the sciences I love and have been doing these past few years at Hampshire," she says.

Div III faculty committee: Cognitive development professor Melissa Burch and biology professor John Castorino (co-chairs).