By Michael Samuels 09F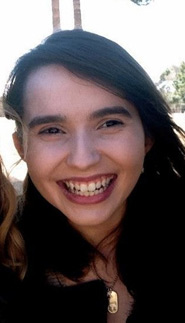 "The art of letting go has never been a talent of mine," begins Hannah Seaman 09F's artist statement for her Division III. Soliloquy's Garden is an installation space of sculptures made from what Seaman affectionately calls "junk."

Using found and discarded objects she built a garden, with seven cacti, a pond, flowers, and small animals. The space also includes a pathway, and a bench to encourage visitors to linger.

"I want people to consider the lives of the utilitarian objects we use on a daily basis," she says, "and to realize the possibilities and the personalities of the things we throw away."

Working on the garden, Seaman discovered that "junk" has a surprising emotional potency. "A project that had no underlying message at the beginning of the year quickly took on a theme that is dear to my heart," she reflects. Some of the repurposed objects came from a landfill, and some from a thrift store, but many others were donated by members of the Hampshire community.

Donated junk, and objects that Seaman herself had held on to, brought a sense of nostalgia to the work. Repurposing these objects became a way both of celebrating the things we hold on to and a way of letting them go.

To further this feeling, Seaman handed out disposable cameras around Hampshire, later collecting the negatives to put under the glass of the pond's surface. She lined the path with "pebbles" made from pages of books from her childhood. Finally, she created a soundscape for the garden, compiling musical scores from the movies and shows she grew up with.

Seaman's concentration at Hampshire included photography, music, computer animation, theatre design, and drawing. Prior to last fall, she had not studied sculpture. Then she took Women's Design and Fabrication. "I found a love for found-object sculpture through that course," she says, "and my entire Div III was taken in that direction."

Now, says Seaman, the garden "is both tribute and escape. It honors a lost friend, a fading childhood, and a collection of metal and memories that belongs to us all."

Division III faculty committee: Professor of Film and Photography Jackie Hayden and Visiting Assistant Professor of Theatre Design Jess Greenberg.