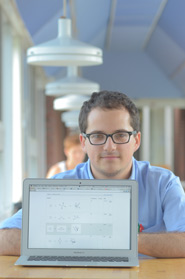 Zeke Nierenberg 09F is graduating from Hampshire College with more than just a degree: His Division III project paved the way for establishing his own business.

"It started out as a normal Div III, a research project studying the timing of chemical reactions, with [computer science professor] Lee Spector," Nierenberg says.

His focus shifted when two of his websites took first and second prize at two different hackathons, or programming competitions. "We got the sense that we were pretty good at this stuff, so we started a company," Nierenberg says. His business partners are Hampshire students Kira McCoy 09F and James Matheson 11F and Amherst College senior Eric Lax.

The company, Trext, offers consumers with no technical skills a means of creating text message apps, surveys, quizzes, and interactive conversations themselves. "You used to have to hire a programmer, now you can do it on your own," Nierenberg says.

With Trext, Nierenberg intends to use the programming skills he has been honing his entire life to achieve "social goals, not just business goals," he says. "There is a lot of potential for global health for this tool. Cell phones are everywhere, even where there is no money."

In addition to Trext, Nierenberg also continued working on the chemical reactions project, and wrote a paper entitled "Clinical Researchers, Hire Programmers," discussing inefficiencies in computer use. The paper is going to be published in an upcoming issue of The Scientist.

After graduation, Nierenberg plans to work full-time with Trext. "We're working very hard on getting clients and increasing revenue," he says.