By Michael Samuels 09F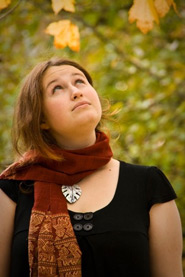 Allegra Fisher 09F literally went around the world on a field-study to learn about ethnic and fusion foods. Then, through the Five College consortium, she took cooking and restaurant-management classes in the hospitality and tourism management department at University of Massachusetts Amherst. She knew she wanted to keep working with food, but there was a problem: she says she found the restaurant industry "less than appealing."

So she decided to help change it.

The inspiration for Fisher's Division III project, Paradigm Shifts: Building the Non-Profit Restaurant, came from her discovery of the community caf? movement.
Started in 2003 by Denise Cerreta in Salt Lake City, the idea is a "pay what you can" caf?, with a variable menu of healthy, seasonal foods, portion sizes chosen by patrons, extensive use of volunteers, and a living wage for paid employees. There are now about 30 community caf?s worldwide.

One part of Fisher's project was writing a guide to starting a community caf?, "focusing on the social and environmental differences between the traditional restaurant industry and the nonprofit model," she explains. The guide also looks at the role of staff and volunteers, "and how to run a restaurant with a blackboard seasonal menu."

At the same time, Fisher says she wanted to do something more immediate to help combat food insecurity. In association with the hospitality-and-tourism-management catering program, she organized a fundraising dinner for the Food Bank of Western Massachusetts. The dinner featured farm-to-table food and speakers, including the meal coordinator of the Amherst soup kitchen Not Bread Alone, restaurateur Howard Wein 93F, and Food Bank of Western MA's executive director.

"We raised $800 for food security in Western Massachusetts, which will provide 2,400 meals," says Fisher. "In addition, I was able to work with a dozen local farms and businesses who donated ingredients for the event."

After Hampshire, Fisher hopes to join the Food Corps, a branch of AmeriCorps that runs school gardens and farm-to-school programs. Otherwise, she'll continue traveling the world to learn more about food.

Before either of those, Fisher will expand the manual from her Division III for Denise Cerreta's One World Everybody Eats Foundation, making it an accessible resource for anyone interested in opening a nonprofit restaurant.

Div III faculty committee: Biological anthropology professor Pamela Stone (chair), social entrepreneurship professor Megan Briggs Lyster (member), and University of Massachusetts Amherst hospitality and tourism management lecturer Linda Kinney.