By Elora C. Pindell 08F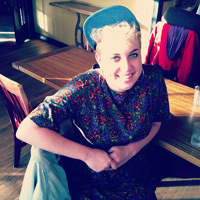 "At Hampshire, instead of ?Bio 101' where you only learn what you're supposed to know, you can learn to apply [what you are studying] to your own interests," says Emily Waters 09F.

Waters' Division III, "Denitrification in Streams and Riparian Zones Along an Urban to Exurban Gradient," explores the ecological process in human-dominated areas. "When you include humans in the equation, ecology becomes really interesting," she says.
"A lot of environmental work says that we need to make things the way they were before humans were here, but I want to know more about how humans can improve the ecological system. We need to have something that allows humans and ecological systems to co-exist."

After winning a National Science Foundation Research Experience for Undergraduates (NSF REU) award, Waters worked with Professor Peter Groffman, internationally known urban ecologist, at the Cary Institute in New York. "This was the only [REU] that focuses on urban ecology, so it's extremely competitive. Working with Peter has been really amazing. We think about ecology in similar ways. It was incredible to be a part of one of the biggest places doing urban ecology work."

Waters credits Hampshire College for allowing her the space to look at urban ecology differently. She says, "The professors put it in a way that was accessible. Chemistry in many other large classroom settings is so much less applied. It's ?here are the rules.' I was able to do work that applies to what I learn."