Monday, May 20, 2013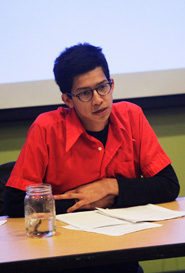 While a deep interest in the writings and legacy of 20th century Peruvian philosopher and social activist José Carlos Mariátegui led to Roberto Rodriguez 09F's Division III project Peruanismo Between Life and Death: Mariátegui, Vallejo and the Nation, a more personal influence also influenced his choice of subject matter.

"The whole project emerged from the experiences of my family members in Nicaragua," said Rodriguez, who grew up in California. "I was exposed to the legacy of Marxist theory at a young age. These ideological tendencies drove me to come to a place like Hampshire. I wanted a school that would not just ensure success but be a place where I could prove to myself that I'm thoroughly able to tear an argument apart and build one of my own."

Mariátegui, whom Rodriguez first learned of while presenting a paper at a graduate conference at Yale last spring, was extremely influential in spreading socialist and Marxist theory throughout Latin America. The Div III project explored issues such as Mariátegui's usage of Marxist concepts to develop his own understanding of Peruvian culture amidst the colonial economy, his interactions with contemporaries like the poet Cesar Vallejo, and the sometimes challenging balance between the philosopher's egalitarian assertions and underlying racial and gender prejudices.

Rodriguez's chair was Associate Professor of Philosophy Monique Roelofs, and his committee member was Assistant Professor of Russian Literature Polina Barskova. His decision to attend Hampshire was partly cemented while sitting in on one of Professor Barskova's classes during a campus visit, he noted, as the knowledge and enthusiasm shown by both the professor and her students embodied what he was looking for in an education.

"Hampshire's faculty is great. I feel I've gained so many mentors and peers with whom I've had serious discussions and to whom I can relate on a personal level," said Rodriguez. "Overall, Hampshire has fulfilled and nourished every part of my life. I've never had to sacrifice who I am as a first-generation child of Nicaraguan immigrants."

A Sander Thoenes Research Award grant allowed Rodriguez to travel in February 2013 to the International Poetry Festival in Granada, Nicaragua, an event that proved eye opening.

"Through the poetry festival I saw the stakes of my project," said Rodriguez. "What is the force of cultural production for someone who can't afford a book, who has no access to museums, and whose traditions are seen as illegitimate by more hegemonic cultural regimes? It helped me begin to understand why I wrote this Div III in the first place. "

After graduation, Rodriguez plans to continue studies in Nicaraguan politics and contemporary debates in Latin American philosophy and liberation theory. He also intends to pursue a PhD., but prior to that will spend next year working for City Year in his hometown of San Jose teaching literary and math skills to underserved youth. In addition, he was selected for the Phillips Academy Institute for Recruitment of Teachers, which recruits outstanding students of color and other scholars committed to diversity who have an interest in teaching, and provides assistance and funding for graduate school application.

"My desire is just to inspire in young people the same love I have for reading and learning," said Rodriguez.