Wednesday, May 22, 2013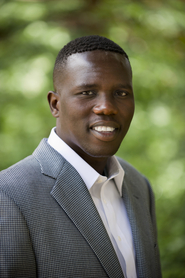 Hampshire College student Lale Labuko 11F joins a roboticist, an astrobiologist, a glaciologist, a planetary geologist, an artist, and an entrepreneur as one of 17 visionary, young trailblazers from around the world who have been selected as this year's National Geographic Emerging Explorers.

Labuko is being honored for his humanitarian work fighting to stop the ritualistic killing of infants and children in Ethiopia's Omo River Valley and providing shelter, care, and education for the children he rescues. He divides his time between Ethiopia and the United States, where he is a student at Hampshire College.

At age 15 Labuko heard the word "mingi" for the first time after he saw a 2-year-old torn from her mother and never seen again. Ancient belief says children who are deemed mingi will bring drought, famine, and disease to the tribe if allowed to live. Ritualistic killing is seen as the only solution. Labuko was one of the first in his tribe to receive a formal education, and the perspective he gained from this fueled his resolve to save mingi children and abolish the practice.

Ultimately he worked with Ethiopia's government and raised funds from international donors to begin Omo Child, a nonprofit humanitarian organization and children's home. Today, 37 mingi babies and children rescued by Labuko live in the home, many saved just moments before certain death. As a result of his impassioned advocacy efforts with tribal elders, Labuko's greatest accomplishment came in July 2012 when his tribe, the Kara, officially banned mingi.

National Geographic Emerging Explorers may be selected from virtually any field, from the Society's traditional arenas of anthropology, archaeology, photography, space exploration, earth sciences, mountaineering, and cartography to the worlds of technology, music, and filmmaking.

National Geographic's Emerging Explorers Program recognizes and supports gifted and inspiring adventurers, scientists, and innovators who are at the forefront of discovery, adventure, and global problem-solving while still early in their careers. Each Emerging Explorer receives a $10,000 award to assist with research and to aid further exploration.

The Emerging Explorers are introduced in the June 2013 issue of National Geographic magazine.

Comprehensive profiles http://www.nationalgeographic.com/emerging.