Monday, July 29, 2013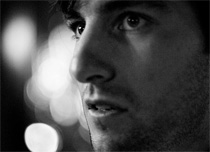 When it comes to films, Tim O'Neill 01F likes to think small. "The smaller the film, the more limited the film, the more creative we have to get," he says. "The smaller stories tend to be the most artistically rewarding, and create a familial atmosphere."

O'Neill is a freelance producer and editor in New York City, having launched his career from his Division III (senior) project at Hampshire. The project, a short film entitled Torches of Erin, was an adaptation of an Irish myth that O'Neill shot during the January term of his fourth year.

"I learned a lot about collaboration, about how filmmaking truly is a product of a large network of people," he said. "The part of the process that I enjoy the most is the brainstorming. I love getting together with groups of people and collaborating. I need to hear something out loud. I like bringing people together and talking through ideas."

Some of O'Neill's current collaborators are Kevan Tucker 01F, Stephen Gifford 00F, and Mitchell Kase 01F. The four Hampshire alums worked together on The Unidentified, a 2008 coming-of-age film about a recent college graduate in New York City. The film was screened at multiple festivals, and was chosen Best First Feature at the 2008 First Glance Film Festival.

Recently, O'Neill launched a web series called Compulsive Love. The show follows the travails of Aaron, a man who falls dramatically in love with a different woman in every episode. "The comedy is in how earnest Aaron is," O'Neill said. "He just knows he wants to have children with every woman he sees."

O'Neill calls succeeding as an artist "a war of attrition. The only way to succeed is to stick around longer than anyone else, keep working, keep making art, and never give up," he said. "You have to believe in yourself. Hampshire alums don't follow other people's paths, we chart our own, following the beat of our own drummer."
Photo credit: Ian Cunningham  00F