Tuesday, September 17, 2013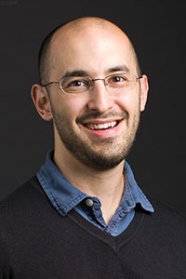 New assistant professor of computer science and game design Ira Fay has only been on campus for a short while, but word seems to have already gotten around about him.

"My classes are crowded so far, which is a wonderful welcome," said Fay, who is teaching Introduction to Game Design and Introduction to Game Programming this fall. "I'm excited to get to know the students better, and I'm regularly impressed by the diversity of student interests. I've also been fortunate to have several students approach me as teaching assistants, which is great for the students in the class, and for me so I can acclimate faster."

Professor Fay has years of experience working in the gaming industry, spending time at Electronic Arts, Activision, Disney, and Maxis before starting his own gaming studio, Fay Games. Prior to Hampshire, he co-founded the game design and development program at Quinnipiac University, where he was an assistant professor.

"Though I have a lot of game industry experience, Quinnipiac was my first academic teaching job, and I learned a lot there," said Fay. "I certainly hope that my experiences there will positively impact my ability to be an excellent teacher and scholar here, as well as contribute meaningfully to the community."

It seems as if that will be a strong possibility. In the spring he will be teaching the course Interdisciplinary Game Project, which he sees as a starting point for long-term student-driven game development projects on campus. He finds Hampshire College's self-directed, project-based curriculum ideal for this sort of work, and is excited to see what can develop through this kind of collaboration.

On Friday, September 27, starting at 6 p.m. in Adele Simmons Hall room 126, Fay is helping to host the Five College Game Jam in collaboration with the Five College consortium and Amherst-based HitPoint Studios, the largest independent game studio in Massachusetts. Another new initiative is a game gathering every Wednesday from 2 to 4 p.m. in the middle room of the dining commons.

"We play board games and card games, and then analyze them," said Fay. "Everyone is welcome and you don't need to be on the meal plan to attend."

Fay set up the GameDevelopment e-mail list to facilitate discussion about game development in the Hampshire community. Students with an interest in that field are encouraged to join up, as Fay hopes to connect as many people as possible as the game development program on campus continues to grow.