Thursday, September 26, 2013
Hampshire College will host its third TEDx event, TEDxHampshireCollege, on Friday, October 18. It will be built around the theme "misadventures."

Amherst, MA (September 23, 2013) - TEDxHampshireCollege, an independently organized event, licensed by TED, comes to Hampshire College's Franklin Patterson Hall (FPH) on October 18, 2013.

The event will begin at 7 p.m. and will be held in the main lecture hall of FPH. The event is free and open to the public, with limited seating (100 seats). It will be broadcast live into two overflow rooms in Franklin Patterson's east and west lecture halls, each also limited to 100 seats according to TED guidelines.
Tickets for the event and overflow rooms will be available from 3 p.m.-4 p.m. in the FPH Lobby on a first-come, first-served basis.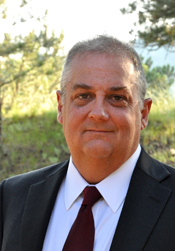 Speakers will include Hampshire alum Ann Hackler 77F, executive director and cofounder of the Institute for the Musical Arts (IMA), a nonprofit teaching, performing, and recording facility dedicated to the support of women and girls in the field of music and music-related business; alum Thomas H. Stoner, Jr. 78F (pictured right), an expert in energy systems as well as a leader and pioneer in clean technology systems; and Sofía Gallisá Muriente, a Puerto Rican multimedia artist turned relief worker who engaged with Occupy Sandy relief operations in the Rockaways.

Applied design professor Donna Cohn and alums Emily Ryan 06F, Katie Coupe 08F, and Aaron Cantrell 07F will present about their collaborative work building a portable gynecological exam table with the nonprofit Basic Health International. Current Hampshire students Gaines Parker 10F and Julie Pedtke 10F will also speak. Hampshire College President Jonathan Lash will provide opening remarks.

Carla Costa, co-director of the Hampshire College Creativity Center, which is a member of the TEDxHampshireCollege cross-campus planning committee, says of the goals for this year's event: "TEDx provides a remarkable platform for communities to share their ideas on a global scale. The Hampshire College community has always been invested in global dialogue and we've focused our event on highlighting Hampshire's own innovative alums, students, faculty, and like-minded partners because we hope to be a spark, even in some small way, for conversations around the world."

For more information about TEDxHampshireCollege, please visit tedx.hampshire.edu
---

About TEDx, x = independently organized event
In the spirit of ideas worth spreading, TEDx is a program of local, self-organized events that bring people together to share a TED-like experience. At a TEDx event, TEDTalks video and live speakers combine to spark deep discussion and connection in a small group. These local, self-organized events are branded TEDx, where x = independently organized TED event. The TED Conference provides general guidance for the TEDx program, but individual TEDx events are self-organized. (Subject to certain rules and regulations.)

About TED
TED is a nonprofit organization devoted to Ideas Worth Spreading. Started as a conference in California 30 years ago, TED has grown to support those world-changing ideas with many initiatives.

At a TED conference, the world's leading thinkers and doers are asked to give the talk of their lives in 18 minutes or less. TED speakers have included Roger Ebert, Sheryl Sandberg, Bill Gates, Elizabeth Gilbert, Benoit Mandelbrot, Philippe Starck, Ngozi Okonjo-Iweala, Brian Greene, Isabel Allende and former UK Prime Minister Gordon Brown. Three major TED events are held each year: The TED Conference takes place every spring in Vancouver, Canada, simultaneous with TEDActive, in Whistler, BC; and the TEDGlobal Conference takes place each summer in Rio de Janeiro Brazil.

On TED.com, talks from TED conferences are shared with the world for free as TED Talks videos. A new TED Talk is posted every weekday. Through the Open Translation Project, TED Talks are subtitled by volunteers worldwide into more than 90 languages. Through our distribution networks, TED Talks are shared on TV, radio, Netflix and many websites.

The TEDx initiative grants free licenses to people around the world to organize TED-style events in their communities with TED Talks and live speakers. More than 5,000 TEDx events have been held, and selected talks from these events are also turned into TED Talks videos.

The annual TED Prize grants $1 million to an exceptional individual with a wish to change the world. The TED Fellows program helps world-changing innovators from around the globe to become part of the TED community and, with its help, amplify the impact of their remarkable projects and activities. TED-Ed creates short video lessons by pairing master teachers with animators, for use in classroom instruction or independent learning.