Friday, September 27, 2013
Chris Annear 92F entered Hampshire College with an interest in animal behavior, but after learning about hunting, conservation, and disputes over food resources, he became fascinated with anthropology and food studies. These topics were the focus of his Division III (senior project), "Going Native with Disposable Chopsticks," a study of the popularity of ethnic restaurants and how they shape the American view of other cultures.

His current work revolves around fish, food, and funerals—three subjects connected not only by alliteration but by the way in which they bring communities together.

Annear studies the Mweru-Luapula freshwater fishery, which is located in northern Zambia and southeastern Democratic Republic of Congo. He first traveled to these countries as a volunteer in the Peace Corps, and has been studying their culture and politics since. He aims to understand the ecosystem of the fishery from a human perspective and to observe the communities of the area.

While in Zambia, Annear was challenged to learn about a new language and culture. He noticed that death was treated as "a transition and not an end," and he began to see an intriguing connection between food and funerals. The relationship between the two may not seem obvious, but Annear discovered a strong link in the way both help to form communities and keep them intact.

Food is "not just what we put in our bellies," he says, "but something that defines us and our identities"—a part of our lives that is closely related to family and ethnicity. As for funerals, they have a quality that Annear describes as all-encompassing. During his time in Zambia, he observed how significant the funerals were. "Everyone drops what they're doing and mourns together," he says, "and makes food together." Not only is food a regular part of funerals, but food and funerals are also natural parts of human existence and similar in the way they symbolize community.

Annear now teaches at Hobart and William Smith Colleges, where his focuses include sustainability, social justice, Africana studies, and environmental studies. He is working on developing a food studies minor. He also hopes to continue research on funerals and their symbolic and spiritual significance.

He has published articles in The Journal of Political Ecology and Gastronomica: The Journal of Food and Culture, and is currently writing a book titled Your Neighborhood Is Your Family: Village Urbanites and Environments of Strangers in South-Central Africa.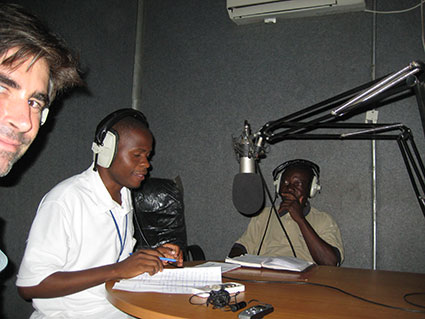 Photo:
Chris Annear (at left) conducting fieldwork. Annear, Robarm Mwape, head of Mweru-Luapula Fishing Association, and Chifukushi Mwewa, a broadcaster at the community radio station in Nchelenge, Zambia, Radio Luapula, were broadcasting an hour-long call-in show in the language Chibemba about the health and proper fishing techniques for Lake Mweru.