Wednesday, October 30, 2013
"This is truly one of my favorite events of the year," said Hampshire President Jonathan Lash, warmly welcoming everyone to the 2013 Fall Internship Dinner, an event that showcases internship grant recipients from the Five Colleges.

The dinner, held in the Red Barn on the first day of October, was bursting with excitement as students filed in, eager to share stories of their working summers.
Each year, the Career Options Resource Center (CORC), Community Partnerships for Social Change (CPSC), Civil Liberties and Public Policy (CLPP), James Baldwin Scholars, Global Migrations Fund, Law Program, and Human Rights Fund hold the event to showcase the success of Hampshire's internship programs.
Hampshire interns are connected with organizations from around the world, and then granted the funds to pursue their work there.

This year's presentations at the dinner were organized differently from the previous events: No longer would each student give a 2-minute overview of their summer. It was simply never enough time to share all they had experienced. Instead, there was a roundtable discussion followed by a report from a representative student at each table, only interrupted to thoroughly enjoy dinner by Hampshire's new food service provider, Bon Appétit.

The new setup gave a small group of students and their faculty facilitator time to go in-depth into their internships—to discuss what they enjoyed, the struggles they encountered, and how it will shape their Divisional education at Hampshire in the following years.

"I did something completely out my realm for once," reflected Sarah Katherine Brewer 11F, a Division III student who worked for Verité, an international labor law program that protects the rights of employees around the world. Brewer was reviewing statistical data for the company and proudly learned how to write a "mean legal review," all things she never thought she'd be doing just last year while finishing a Division II on medical policies. "I liked having to push myself to learn something that before I knew nothing about," she said.

Brenda Herrera Moreno 13F spent the summer working for the African Community Center in Denver, an organization that aids refugees from the Middle East and Africa who have come to America for freedom. Brenda specifically worked with the student refugees and aided them in applying to college. "I had to learn on the spot everyday, which taught me a lot about myself," she said, "but also about the unimaginable trauma that can happen and how powerful these programs can be for refugee students."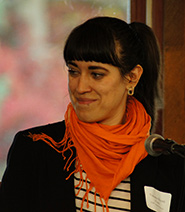 Recipients of the Hirshberg Sustainability Internship Grant, Juecheng Zhao 12F and Owen Gilroy 10F spent their summers working for the World Resources Institute. Zhao worked in Beijing, conducting research on China's new power plants. Gilroy was in Washington DC and studied the effects of eutrophication, or the effects of an oxygen-depleted aquatic ecosystem.

"We all feel as though our internships are only the beginning," said Anna Shaddae Rodriquez 10F, who worked as a part-time case manager for Span Inc., a nonprofit that helps those in prison recover and reflect on the issues that brought them there, while building skills that integrate them back into society. "We all maintained a connection and a commitment to the work that we're doing- it was very powerful," Rodriguez said.

Eva Rueschmann, dean of faculty, concluded the event with words of inspiration and appreciation for the students' hard work. "This event really does show the proof of a successful Hampshire education," she said. "It truly is a wonderful place to be a student."