Tuesday, December 10, 2013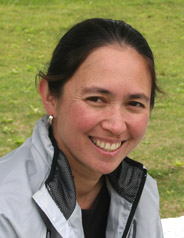 Professor Naomi Darling is a winner of the American Institute of Architecture New England (AIANE) 2013 Citation Award for Excellence in Architecture. Darling is a Five College assistant professor of sustainable architecture who teaches courses at Hampshire.

"[T]he submissions were open to every architecture firm in New England, so it was quite an honor," Darling said. "The Kernan Teahouse," a project Darling designed for a Connecticut couple in 2007, received the award.

"What was nice about the Kernan Teahouse was that it was a small project, so I could really focus on the relationship to the landscape, the structure and space, the way materials come together, every joint, and not worry about the workings of a building, like plumbing and HVAC systems," she said.

Darling, who is in her second year teaching in the Five College consortium, praises Hampshire College students for their ability to "jump in." "There are a lot of opportunities on campus to explore materials and carry ideas from conception to realization."