Thursday, December 12, 2013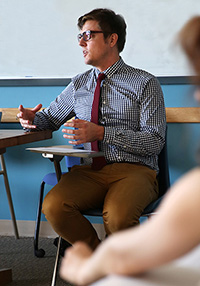 The School of Critical Social Inquiry welcomed three new faculty members in 2013: Assistant Professor of Economics Lynda Pickbourn, Assistant Professor of African Studies Rachel Ama Asaa Engmann, and Assistant Professor of Queer Studies Stephen Dillon (pictured right).

Professor Pickbourn taught at Keene State College the past few years, but had taught a course at Hampshire in 2011 called Gender and Economic Development in the Developing World (a course she taught again in fall 2013). She grew up in Ghana, graduated from the University of Ghana, and taught economics in high school there before going to UMass Amherst for her PhD.

"The educational system in Ghana follows a set syllabus and curriculum. There's not much flexibility. With Hampshire, there is a nontraditional economics program, so there is a lot more flexibility in what I can teach," she noted.

In addition to what she's teaching, Pickbourn is also excited about the participation in her classes.

"The students are great. In my Gender and Economic Development course, the class was mostly first year students. I was struck by their willingness to speak in class,," she said. "And in my upper level class (Feminist Political Economy), the students were really engaged with the material. They had a lot of different backgrounds, so they brought different perspectives into the classroom."

Pickbourn notes that she eventually hopes to take her students out of the classroom for additional learning experiences.

"I want to go back to Ghana every couple of years, and maybe develop an exchange program with students over the summer," she said. "I think a lot of students are interested in Africa, so that's something I would like to develop in the long term."

This is something Rachel Ama Asaa Engmann would also like to be involved with, as she is half-Ghanaian and, in addition to personal visits, has done field work several times in the country. She appreciates the fact that Hampshire students are encouraged to get hands-on experience, which she finds an invaluable complement to classroom work.

In fall 2013, Professor Engmann taught the courses Art/Artifact: African Art and Material Culture and "People Without History": Historical Archaeologies of Atlantic Africa and the African Diaspora. The opportunity to develop courses like these, which cross traditional academic boundaries in order to present students with a more comprehensive overview of the topics, is a major reason she wanted to teach at Hampshire.

"Hampshire College has a good reputation. I was attracted to the idea that, if you have a research question, you're not tied to a discipline to answer it," she said.

Stephen Dillon sought that type of academic environment as well. Coming from an interdisciplinary scholarly background (he earned his PhD. in American Studies with a minor in Critical Feminist and Sexuality Studies from the University of Minnesota), Professor Dillon says he enjoys the fact that, at School meetings, "talking to an archaeologist means I will be pushed to think about new things. We're talking to people we probably wouldn't otherwise talk to."

In addition to being the first professor of Queer Studies at Hampshire, Dillon has been tasked with developing a Five College Certificate in Sexuality Studies. He plans to collaborate intensively with the Five College community in creating this offering, as he knows how important it will be to so many people.

"This is setting up the foundation for students and the Hampshire community to examine what queerness is," he said.

His Hampshire students have already impressed him with their preparation and involvement in his fall classes. Race, Nation, and Sexuality and Introduction to Queer Studies.

"Because students have so much to say, it means we can talk about a paragraph for half an hour," said Dillon. "That's what I've always wanted to do."